WATCH: Mel B Throws Water at Simon Cowell over 'Wedding Night' Joke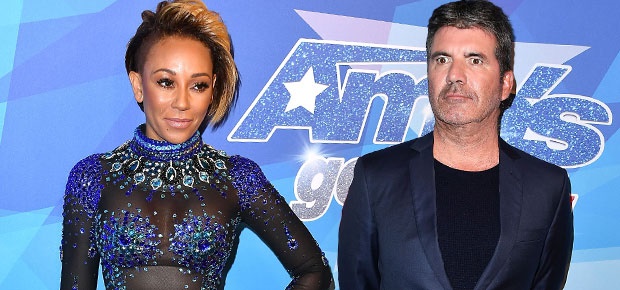 Mel B threw water in Simon Cowell's face and stormed off stage after he made a joke about her marriage on America's Got Talent.
The judges were giving their feedback to escape artist Damien Aditya who suffered a malfunction during his routine when Cowell made the jibe about Mel's marriage to Stephen Belafonte.
"I feel like this would be a lot like Mel's wedding night, a lot of anticipation…not much promise or delivery," Simon said.
READ ALSO: Mel B & Stephen Belafonte Divorce Update: Mel B to Pay Hubby Temporary Support
This prompted Mel B to get up and throw a glass of water over the music mogul, with such force that she split her dress, before storming off stage.
The former Spice Girls singer is currently in the process of divorcing husband of 10 years Stephen Belafonte, amid allegations that he was violent and abusive towards her.
The America's Got Talent twitter page insisted that Mel B's reaction wasn't staged, writing "That was not planned you guys" and "This is live TV, you guys, anything can happen".
READ ALSO: What Divorce Drama? Mel B Steps Out Looking Ravishing with her Children
THIS IS LIVE TV, YOU GUYS. ANYTHING CAN HAPPEN. #AGT

— America's Got Talent (@AGT) August 23, 2017
Meanwhile host Tyra Banks said
"Mel B is out. This is live TV y'all. Live TV."
READ ALSO: Simon Cowell Reveals He's Not Proud Of How He Snatched His Best Friend's Wife
However it didn't appear that the incident affected Mel B and Cowell's working relationship as she later returned to watch the next act.
Mel B later said her water toss was "done in a jokey way."
Watch Video:
https://youtu.be/-UPTEbWKKbo