Single Mum Reveals the Challenges She Faced and How She Scaled Through During Daughter's Birth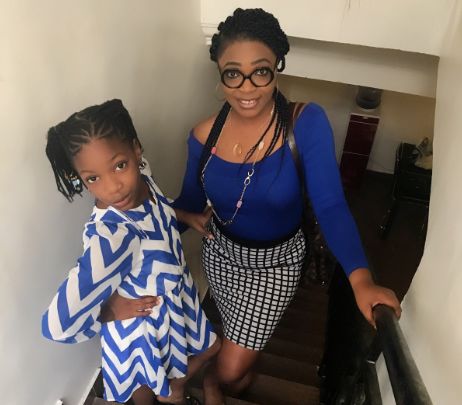 On the tenth birthday of her beautiful daughter, a young single mum has opened up about the challenges she faced when she got pregnant. Read her amazing story below.
"At the hospital where I had my girl, I didn't have money to pay for the bill, Dr. Mimi came to the ward saw the new born and me and fell in love. She figured out that I didn't have an idea of where my next meal will come from and went from Doctor to Doctor collecting money for us.

She didn't stop there, the Gov was visiting and she gave me a coat to put on and follow them. Gov gave all the student Doctors money. That Included me. That wasn't all. She knew I had no where to go and she got one of the student Doctors to take me and my baby in.

2 weeks later, my baby had congenital Malaria and Dr. Mimi made sure my baby got all the care she needed including expensive injections. The plan prior was to give her to a family that could take care of her seeing as I couldn't, I saw her and changed my mind.

I had no clue how we were going to survive, where we would live, how we would eat but I was sure that I no longer wanted to give her away. The fact that we are alive and well and my baby dearest is starting secondary school is not a small miracle.
READ ALSO: "Why I don't like being referred to as single mum" – Actress, Regina Chukwu Speaks on Motherhood and Career in New Interview
I am forever indebted to God, Ble Ble, Mfonfon, Afymma, Dr Mimi, Dr Ada, Dr Ogb, My late lady G and all those who saw me through. It's been 10 years since you gave me a chance to be a mum, to the most beautiful girl in the world and saying thank you is not enough.

I pray God bless you all in ways you never imagined. As you have helped a stranger a few years ago may you never want anything in  this life."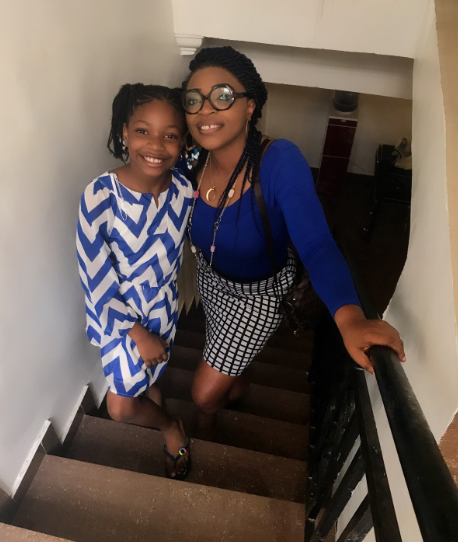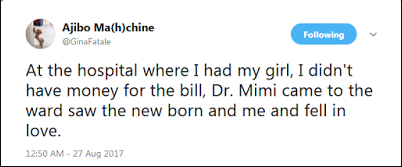 Her touching story attracted users and followers who were inspired and also sent out their hearts and prayers to her and those who helped her through her trying times.
The stunning mother who goes by the name Ajibo Ma(h)chine and twitter handle @ginafatale told her followers that the above was just little out of her story.
READ ALSO: Celebrating 40 Years of Marriage! Facebook User Shares Beautiful Story about Her Parents
She revealed that she went through so much at the time of being pregnant with her little girl before the birth and before all these people she appreciated came into her life.
" Make una help me thank God that I made it this far. I moved from the Helped to the Helper. If I tell the story of 9 months journey a lot of you will pity me but today isn't about pity just sheer JOY and GRATITUDE"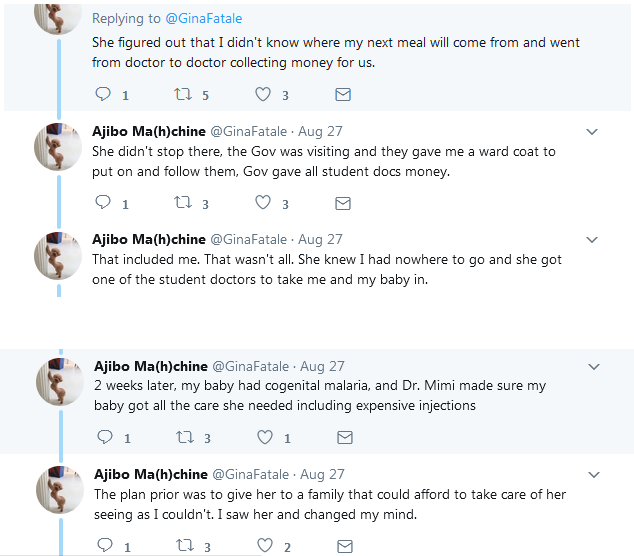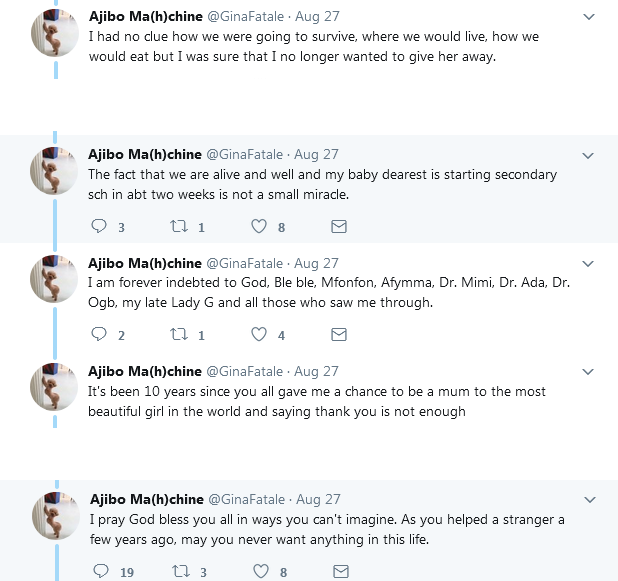 Ginafatale also thanked her grandmother who she claimed found her and took her in and asked her to go back to school as she took care of her little girl while she was at that.
READ ALSO:"I Was Beaten to the Altar on My Wedding Day" – Survivor of Domestic Violence Shares Her Inspiring Story
So touching! See photos below: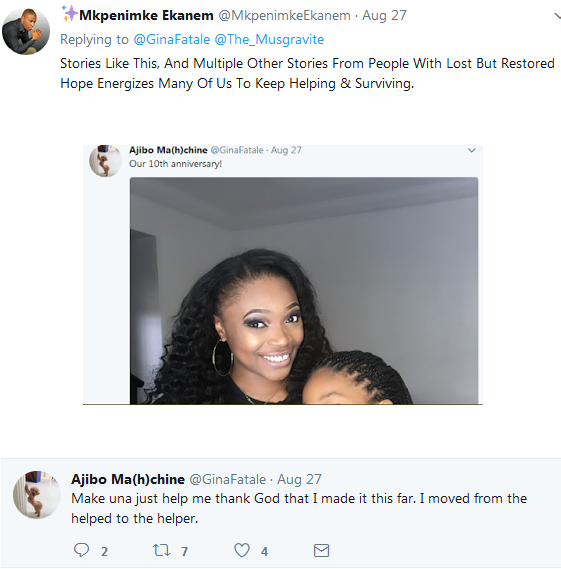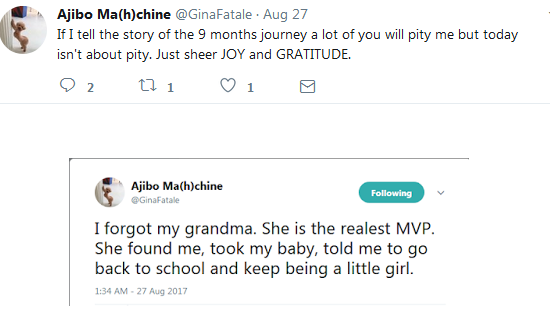 Photo credit: Instagram