Teenage Housewife Takes out Marital Frustration on 2-Week-Old Stepson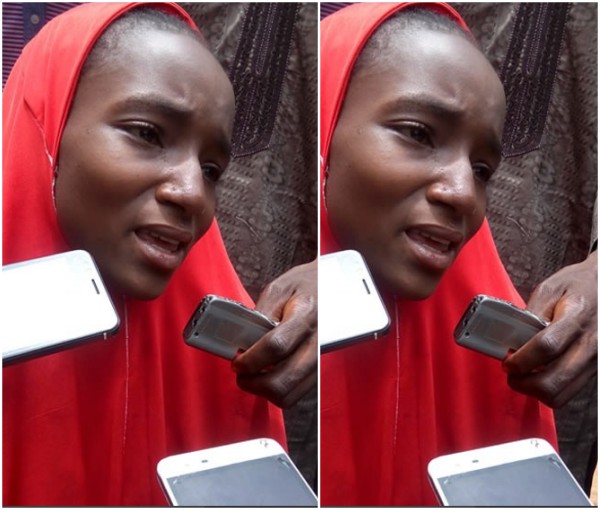 A teenage housewife in Bauchi State has vented her frustration of being forced to marry her husband, Mohammed Abdullahi against her wish on her two-week old stepson.
Hindatu Abdullahi, who was paraded along with other suspected criminals at the Bauchi State Police Command Headquarters, on Wednesday, wept profusely as she confessed to poisoning the infant with toxic insecticide, according to Punch.
The 17-year-old mother of one said she attempted to kill her rival's two-week old baby because of the deep hatred she had for her husband and his first wife, the baby's mother, Fatima Abdullahi.
READ ALSO: "Once penetrated, she'll no longer be a girl"  – Man Whose Cousin Married an Underage Girl in the North Brags
Hindatu, who claimed her father forced her into the marriage when she was just 15 years old, admitted that she was trapped and unhappy in her two years old marriage.
"My husband and I have been married for two years now and we have a child. He married me as his second wife. He used to love me dearly, but he suddenly started maltreating me.

He would beat me, insult me and abuse me at the slightest provocation. I reported his maltreatment to my parents all the time, but they have never believed what I told them, since it was their idea for me to marry him.

My father forced me to marry him, against my wish. I have been staying in my husband's house just because of my parents."
READ ALSO: Heartbreaking! Father Forces 13-year-old Daughter to Marry His 56-year-old Friend in Kano
Embattled Hindatu, who sobbed while she spoke to newsmen said:
"I have not been in good terms with my husband and my rival. We are always fighting. I don't know why I did what I did, but I regret it.

Whatever punishment that will be given to me should be done, but every time I remember my action, I keep regretting doing what I did."
Giving more details on the incident, the teen mum explained that her husband traveled to Saudi Arabia for the ongoing hajj; and when her rival went out, she went into her room and took her baby to her own room.
READ ALSO: Teenage Bride Mutilated By Community Barber Because She Refused To Have Sex With Her Husband
She then administered what was suspected to be poison on the infant, but the baby didn't drink it.
"I quickly removed his clothes and cleaned the poison with it. I became very confused, realising what I had done," she said.
Frustrated Hindatu said further that the baby was then rushed to the hospital and the nurse said the baby did not swallow the poison.
"My siblings took me to my co-wife and I apologised to her and she said she has forgiven me; but she left everything to God to judge.

They called my husband on phone and told him and he vowed to divorce me when he returns from his pilgrimage," she added.
READ ALSO: WATCH: Actress Patience Ozokwor Opens Up about How her Parents Forced her into Marriage at Age 19
She claimed that she was given 80 strokes of the cane after her husband's brother insisted that she must be punished for her crime.
"He (my husband's brother) took me to a vigilance office in our area and they gave me 80 strokes of the cane besides the tax they placed on my father, which he paid.

My husband's brother said he wasn't satisfied with the punishment I was given, so he took me to the Police Station at Maina Maji, where I spent two nights before they brought me here (Bauchi State Police Command headquarters).
Parading the suspect, the Police Public Relations Office of the state command, DSP Kamal Datti Abubakar said:
"On 19/08/2017, a case was reported at Maina Maji division that in the house of one Abdullahi Ori Male of Wurs Bogga village, Duguri district of Alkaleri LG, who went for this year's hajj pilgrimage at Saudi Arabia leaving his two wives at home, Fatima Abdullahi and Hindatu Abdulahi the younger wife.

"The said Hindatu Abdullahi collected the child of her co-wife, Fatima Abdullahi named Mohammed Abdullahi, a two weeks old baby and went into her room with the baby and put into his mouth an insecticide popularly known as Ota pia-pia as a result the baby became unconscious and was rushed to nearby dispensary and later the baby died.

"The suspect was arrested and also the remaining quality of the toxic insecticide was also recovered now on the process of scientific examination, the suspect confessed to the offense of which she will charge to court after investigation, he said"
The police spokesman said that the suspect would soon be charged to court for culpable homicide.
Photo credit: Punch