See Lepacious Bose's Self-Motivation for Weight Loss Journey
https://www.instagram.com/p/BYh_vF1BgWc/?taken-by=lepaciousbose
Comedian and lawyer Lepacious Bose as she is popularly know took to Instagram to pen a motivational note to herself bordering on her weight loss and fitness journey.
Her weight loss journey which started three years ago, has yielded positive results, and many are happy for her.
The 41-year-old qualified lawyer, who is not only known for her humour but also her long struggle with weight loss of 25 years obesity struggle is an idol to many.
The doting mother of two shared a throwback photo of her obesed self and a recent photo of her trimmed body and wrote this beautiful piece to her self.
Read below: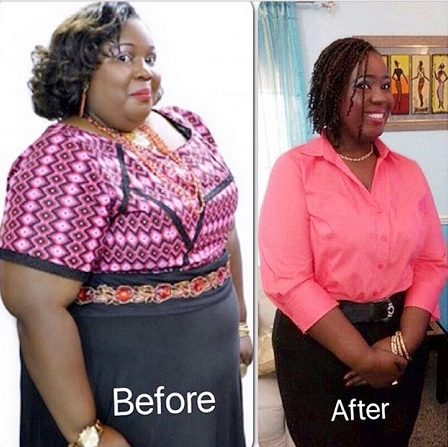 "Hello!
My name is Lepacious Bose and
I am a compulsive overeating survivor.
I am a depression fighter
I am an emotional eating overcomer
I am an insecurity, low self esteem recovery person.
I am a thyroid fighter
I am negative thinking/speaking recovery person
I am a fear fighter
I am a negative anticipating fighter.
Yes l am on a journey of self love, self recovery, self deliverance, a journey of positive affirmations. The journey does not get easier, but it gets better.
And evil if it gets tougher I am still #toolegittoquit
READ ALSO: I was obese for 25 years. Lepacious Bose Speaks on Massive Weight Loss Journey
THEREFORE
Today I declare, I am Boseds Olufunke aka Lepacious Bose, I am a daughter of destiny, God created me for a purpose, I am not a mistake, I am not an alternative. My body is the temple of God, the same spirit that raised Christ Jesus from the dead dwells in me and quickens my mortal body, quickens my body to break down every fat cell and accelerates it to burn out.
I affirm today that I love ME.
READ ALSO: See Comedian Lepacious Bose's Thoughts On Today's Young Generation
I love exercising every day. I am in perfect health and love my body. Going to the gym and exercising, make me feel well-rounded and accomplished, and the benefits I receive from exercise are incredible.
I feel amazing every day.
I am a motivated, energetic person, I feel good every single day, and this makes me feel healthy, happy, and energetic. It's a cycle. Depression and tears have no hold over me, fat does not define me. Food is not my boss, my stomach is not my God.
I am a happy person who is intoxicated with living; I enjoy life and life is good to me. This makes me feel happy and exhilarated.
I AM IN CONTROL, I AM IN CHARGE OF MY LIFE AND I AM NOT AFRAID ANYMORE!"
Photo credit: Instagram