Hurricane Harvey: This Mum's Unusual Act of Kindness Will Warm Your Heart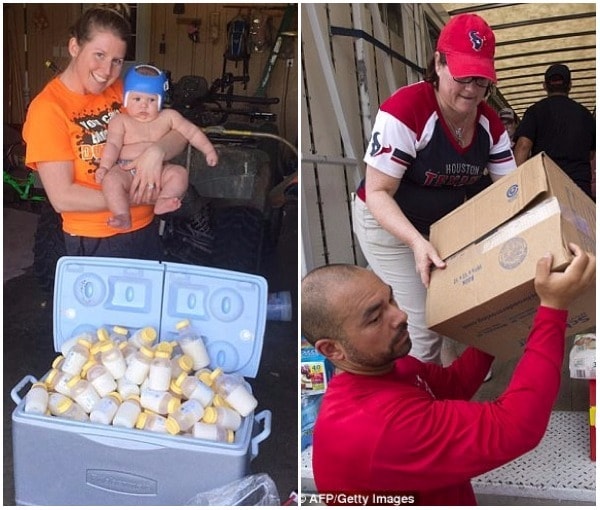 Danielle Palmer of Owensville, Missouri has attracted positive reactions from people all over the world for her act of kindness.
The amazing mother-of-three decided to help out hundreds of Texas babies by donating 65 pints (eight gallons) of her breast milk to nursing mothers that survived Hurricane Harvey, Independent reports.
READ ALSO: Hurricane Harvey: Child Found Clinging To Drowned Mother's Body | See Details
Danielle had an excess of bottled breast milk stored for her little son, Truett, but decided to help out other mothers who survived the catastrophic storm and are currently displaced until the flood water goes down.
"I can't imagine being in a situation where you're losing everything" Palmer told News 4. "All I could do was sit and pray for the moms and dads and kids."

"We have each-other's backs. We take care of each other, breastfeeding is hard. Whether you're pumping or feeding or however it may be, it's hard. And we are like momma bears. We protect one another."
READ ALSO: Breastfeeding Lowers Risk of Heart Disease and Stroke for Mothers, Study Suggests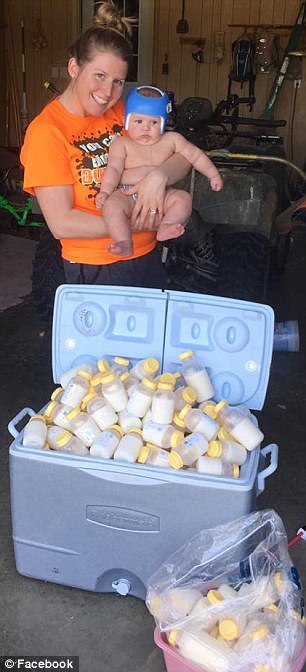 The idea to donate her breast milk came to Danielle after Truett was born with a congenital heart problem, among other difficulties, meaning he had to take most of his nutrition by IV – which led to Danielle's freezer building up an impressive amount of excess milk in the meantime.
READ ALSO: Leonardo DiCaprio, Sandra Bullock Donate $1 million to Help Huriccane Harvey Victims
Truett's speech therapist suggested donating some milk to the mothers and babies affected by the Hurricane Harvey floods.
According to Danielle, she said she realized she was the right woman.
"With Truett's heart defect, I don't take that lightly but I also know I'm grateful for the situation God placed us in.

It's given us the opportunity to do other things, I mean had we not been in this situation, we wouldn't be able to share some of our love with the babies in Houston," she said.
READ ALSO: Aisha Buhari Donates Relief Materials To IDPs In Maiduguri
The frozen milk will be distributed to moms who need it, after it's rigorously tested to ensure it's safe. Some moms lost their own supplies, pumps and others are too stressed to breastfeed.
According to Baby Centre, exchanging breast milk is legal. Breast milk can last for up to six months once frozen.
While serious diseases such as HIV can be transmitted by milk, it is reported that 'the risk of infection from a single bottle of breast milk, even if the mother is HIV positive, is extremely small.
The image of Danielle, her son and their generous donation has since gone viral gaining over 13,000 likes and a flood of glowing comments on the Breastfeeding Mama Talk page.
"Well done!! What a tremendous gift!" one person wrote.
"I'm so proud of this girl for staying strong and donating to babies that need it most," another added.
https://www.facebook.com/bfmamatalk/photos/a.471668436214912.96317.411182815596808/1501794646535614/?type=3
Photo credit: AP/Facebook