Be Hopeful! Blind Teacher Finally Finds Love in his 50s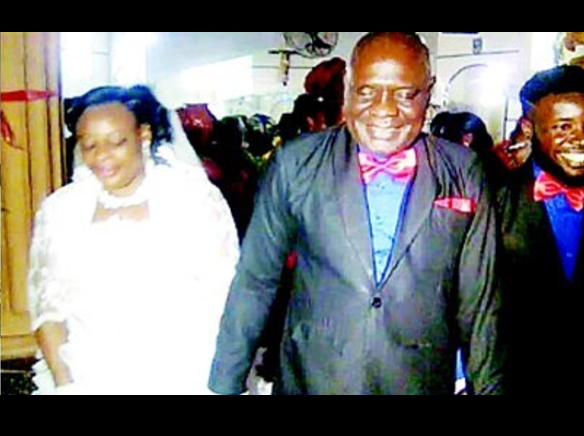 Alphonsus Orjinta, a visually-impaired teacher has caused an uproar as he finally finds love at age 59 after years of rejection and loneliness. Their story is a definition that love has no limit.
The Political Science Education graduate of University of Nigeria Nsukka, UNN, who could not contain his joy, thanked God for the opportunity and privilege granted him after several unsuccessful attempts at getting married largely due to his blindness.
The happy couple, who got married in Enugu, had their first contact in 2016, which eventually culminated in a wedlock.
READ ALSO: This Paralysed Mom Found Love Again After Ex-Hubby Abandoned Her on Sick Bed
In a chat with Vanguard, the newly wed narrated their love story.
"I have made many failed attempts in the past to get a soul mate since many were not willing to settle with him because of his sight challenge.

The Almighty God has done a wonderful and awesome thing that I never expected to happen in my life.

For so long I have been searching for a partner and at last, God has crowned my efforts by showing me my wife, who is truly the bone of my bones and the flesh of my flesh," Mr Orjinta said.
READ ALSO: 'My family refused to attend my wedding because my wife is physically challenged" –  Couple Shares Amazing Love Story
On the other hand, his wife Caroline Orjinta (Nee Njoku Chinedu), who hails from Ezinato-Ohafia Oduma in Aninri Local Government Area, LGA, of Enugu State, expressed fulfillment in finally settling down with a man she loves so much.
"God is in charge of all things. It is not good not to accept people because of their conditions.

People can be accepted for the sake of Christ who is love personified and with the love you have developed for that person, you will get committed to taking care of him in love."
READ ALSO: Aww! Young Nigerian Man Declares His Love for Disabled Girlfriend (Photos)
Mrs Orinta also prayed for God's continued blessings in their union so that they would both make heaven in the end.
Speaking about Mr. Orjinta's background and struggles, he was born on the 18th of November 1958.
Though, he was born blind, Mr. Orjinta never allowed fate to dictate his pace in life; he took bold steps to create his world and made a meaning out of it despite the natural hindrance and challenge posed by his blindness.
READ ALSO: Love Wins! Story of Nigerian Woman Who Married Her Former Sweetheart at 62 Will Encourage You Never to Give up on Love
His willfulness saw him through primary and secondary schools in the earlier stages of his life.
Since his graduation from the University of Nigeria Nsukka, UNN, in 1991, he has been a teacher at the College of Immaculate Conception, Enugu.
Photo credit: Vanguard