Zari Hassan Responds to Baby Daddy, Diamond Platnumz's Cheating Scandal With Powerful Message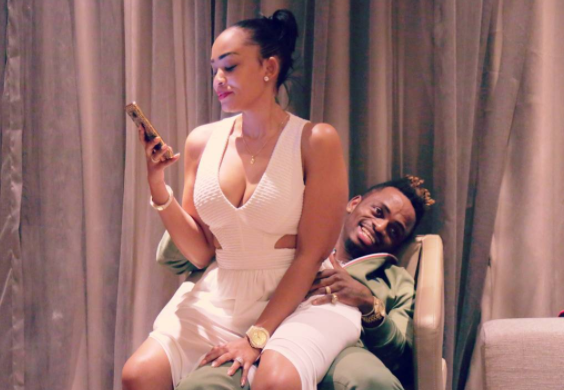 https://www.instagram.com/p/BZPzN93DWWw/?taken-by=zarithebosslady
Zari Hassan, Diamond Platnumz's first baby mama has reacted to his cheating scandal after he accepted he fathered a baby with his side chick.
The mother of five took to her Instagram and shared a stunning photo of herself with a message that sheds light on the ongoing drama.
"Am such an early morning person as some can see on my snap, usually up by 5am. Let's start this day on a different note, shall we???? Ladies and gentlemen.

I've heard you loud and clear, the advises, the consolation, the pity, the hurt you feeling on my behalf most of all the betrayal. But let's look at this on the positive side.

When a person chooses to cheat on you it's not YOU actually its THEM which usually turns out that they played themselves while they thought they are playing you.

You should never look down on yourself, don't ever think you are worthless because of another person's mistake & never blame yourself. But always look at how to pick yourself up and get going.

That said, with my birthday approaching let's put all this negative energy behind us and appreciate, LIFE! ????"
Zari who has two children for the singer does not sound like she is going to give the singer a chance anymore.
Yesterday, Diamond Platnumz opened up about cheating on his wife, Zari with a Tanzanian video vixen named Hamisa Mobetto.
READ ALSO: Diamond Platnumz Accepts Paternity of Third Child & Admits to Cheating on Zari Hassan
He also shared a video of his newborn baby with Hamisa and revealed he had already met his baby, without Zari's knowledge, even after denying that he was dating the socialite.
He blamed the devil for his misfortunes claiming that he will do anything even if it means crawling on his knees to South Africa where Zari is based now with her 5 children just to apologize to her.
READ ALSO: Snap Back Goals: Zari Hassan Flaunts Sexy Abs 1 Week After Having Her 5th Baby
What would be his lot now that the mother of five has revealed that she has put the cheating scandal involving the father of her 2 kids, Diamond Platnumz, behind her?
Photo credit: Instagram