Hollywood Star Gabrielle Union Reveals The Secret to Her Happy Marriage | See Details
Gabrielle Union and her NBA superstar husband Dwyane Wade have been happily married for three years and the Hollywood star has credited some factors as the key to sustaining their relationship.
The American actress is known for showcasing her marriage in front of cameras and many fans consider their close and playful bond to be the ultimate relationship goals.
In an intimate interview with the Complex magazine, the actress reveals that she and her hubby are far from perfect. In fact, the 44-year-old said that she and Wade have consistently kept working on their romance so as to maintain the chemistry between them.
While their relationship has been full of ups and downs, Gabby said she wouldn't trade it in for the world because she is "so f—–g happy."
READ ALSO: 'I've done a lot of marriage counselling' Actor, Will Smith, Reveals Therapy Saved His Marriage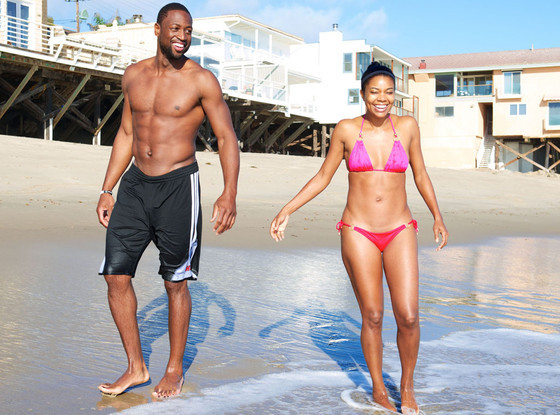 READ ALSO: "No, my wedding is not an accomplishment" Actress Gabrielle Union Reveals
Speaking about her happy marriage to Wade, Gabby who was previously married to former NFL running back Chris Howard for 5 years, said:
"People are like 'goals'; me and D are like, 'WTF?' We've kind of figured it out now, but I guess maybe we should tweet live from couples' therapy," she says.
READ ALSO: You Won't Believe What Hollywood Star Gabrielle Union's Father Told Her Husband When they First Met…
"And when you ask us we're gonna tell you, there's a process to happy," she continued.

"So I started doing the work to help myself feel like I was worthy and I had value, and the more work I did on myself the more I was like, 'OK, I wanna tell this story too,"' she explains.

"I'm so happy. I'm so f–king happy," she gushed.
READ ALSO: "My Career Success Is Not The Cause Of My Infertility" Gabrielle Union Insists
The power couple began dating in 2009. The Chicago Bulls player and 3-time NBA champion proposed to Gabby with the help of his two sons in December of 2013 and they tied the knot in August of the following year.
The stunning actress who is trying hard to have children of her own, has always open up about her struggles and pains with infertility. Dwayne has 3 sons from a previous relationship.
READ ALSO: American Actress, Gabrielle Union, 42, Shares on Still Trying for A Baby & More
READ ALSO: Gabrielle Union Graces The Cover Of Essence Magazine. Talks Marriage, Fears About Being A Step-Mom And More
Every relationship has it's ups and downs and at the end of the day there are no perfect ones. Here's wishing them a fruitful and blissful marriage!
Photo credit: Getty/Instagram/PA