Danfo Driver on the Run for Beating Pregnant Baby Mama to Death (Graphic Photo)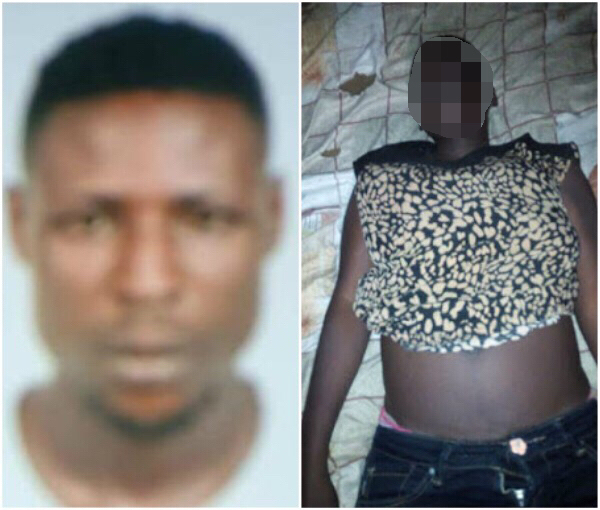 A pregnant lady and mother, Islamat Bolaji has been beaten to death by her estranged lover, Okiki Arisekola, a commercial bus driver, during a scuffle on September 16.
The unfortunate incident happened at No. 50 Wright Street Adekunle, Yaba; where the victim lived with her 64-year-old grandmother, Gbemisola Agboola, who said she had lost Ismalat's mother, Aishat at exactly the same age.
The Danfo bus driver has been declared wanted by the police for beating the estranged mother of his child, who got pregnant for another man to death, Sun News reports.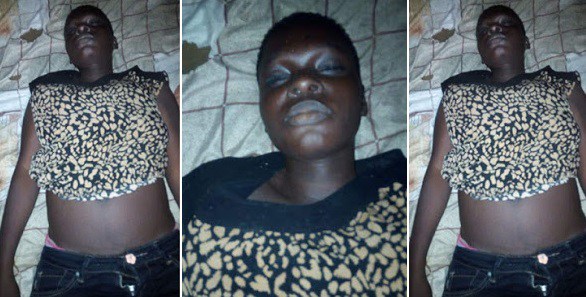 It was learnt that Arisekola had been dating the victim since 2015 and the union produced a baby girl. However, he showed no move to marry her, apparently because he was still trying to find his feet. But he took responsibility for his daughter.
The suspect had a quarrel with Islamat over the custody of their 11-month-old daughter named Kemi before beating her to death.
READ ALSO: Horrific! Pregnant Woman Forced to Deliver Baby After Boyfriend Set Her on Fire
Giving more details, the bereaved father of the deceased, Isiaka Bolaji, said;
"He has not been visiting my daughter, but recently he just started coming and my daughter grew suspicious of his visits.

On the fateful day, when he came, they were together at first, then he left, on his return they started quarreling nobody paid them attention, because that was how they always fought.
READ ALSO: Heart-Rending Story of Pregnant Woman, Chinyere Akaleme & Her Unborn Child Allegedly Beaten to Death by Her Hubby | Viewer's Discretion
But, this time, it led to a physical fight and Okiki beat my daughter into a coma. After some minutes that he had left, my daughter fell and became motionless.

We rushed her to the hospital and it was there she died," Bolaji recalled of the incident.
Pointing to a spot on the floor, the deceased's grandma said:
"This is where I stood when I saw my granddaughter faint right before me just as her mother gave up the ghost.
READ ALSO: What a Man Did to his Pregnant Wife After She Found Out he Impregnated Their Maid is So Disturbing
She was just recovering from a fever attack. She had not done any work for close to a week. On that day, she decided to treat herself with some medication.

She asked me to hold on to the child, an 11-month-old baby. I took the child and placed him on my lap."
The grandmother disclosed that Islamat's sister, also named Kemi, came in to collect the baby and handed her to the father of the child, and that was when the fight got ugly;
"Not long after, Islamat's sister, Kemi came in and asked me to give her the baby, I did and Kemi caressed the baby.

She stepped out with her only to meet Okiki standing outside. He demanded to take the girl away and Kemi gave him the baby. But when Islamat saw Okiki with the child, she rushed to take the baby from him.
READ ALSO: Horror! See Why Pregnant Woman Was Beaten to Death in Adamawa State
They dragged the baby between them, while Kemi stood looking at them. Okiki tried to leave with the baby, but Islamat didn't allow him, because she feared that he was going to use the child for rituals.

It was a passerby that called my attention to Okiki merciless beating of my granddaughter. I almost had high blood pressure. I rushed out and called my granddaughter.

As I was leading her back into the house, she fell and fainted. The first hospital we took her to didn't have doctors on call, but before we could get to the health center she died. It was confirmed by the doctors there," the grandmother stated.
Though the grandma could not confirm rumours that the deceased was pregnant, however she said;
"There had been rumours about her being pregnant, but she said that she was not, so I didn't ask her who the father was."
It was also revealed that after Islamat got pregnant again probably for another man, the suspect stepped up visits and demanded to have custody back.
 Photo credit: Sun News