How Moni Onibata Diagnosed With PCOS Became a Mother of Three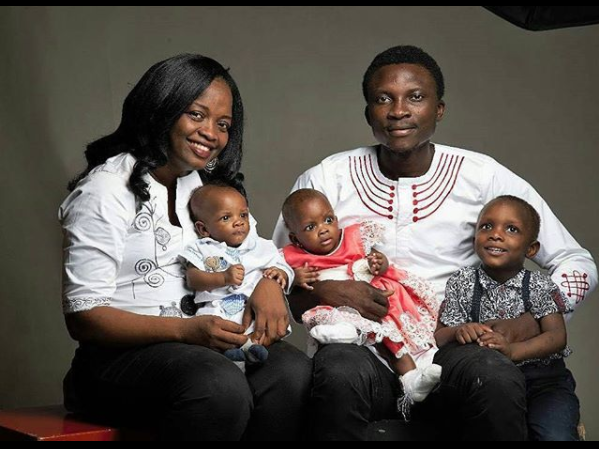 https://www.instagram.com/p/BZZVPw_AYQ2/?taken-by=moni_onibata
Few weeks into marriage in 2012, and after a series of tests, Moni Onibata pictured above with her family, was diagnosed with Polycystic ovarian syndrome (PCOS). And according to the doctor's reports, it was going to be hard to conceive because she wasn't ovulating.
Today, it is a different story as the now mother of three shared her powerful testimony of her journey into motherhood, to encourage as many people out there to keep hope in God.
READ ALSO: Testimony: What Happened After I was Told I Won't be Able to Conceive Due to My Infection and Fibroids
"I was told shortly after I got married in 2012 that I had PCOS and I would find it difficult to conceive because I wasn't ovulating. I refused to let the doctors report sink in but held on to God's promises.

Few months after my period flow changed, instead of having the normal blood flow of 5 days, I bled for 60-90 days and had just 2-3 weeks break. How I survived that period, I don't know but God kept me.

At a point my GP said I was Anemic. And then people began to ask when we will be having our babies and my constant answer was, we were not yet ready.
READ ALSO: Dear MIMsters: How My Trying to Conceive Story Changed Even Though I was Diagnosed with PCOS
Then came August 2013 during the Holyghost convention( I watched the Live transmission on TV) and Pastor Adeboye asked those who had their babies within the period of the Last convention and that service to come with their babies.

While they danced to the altar, I cried to God silently asking for my own baby..then my hubby #kaykums who was oblivious of my prayers just spoke and said by this time next year, we will have a son and he named him.
READ ALSO: After Experiencing 9 Miscarriages and Undergoing 4 IVF Treatments a Miracle Happened  | Read Kaojo's Testimony
And yes, God honoured it. Exactly that time the next year we had a son. It was A miracle.
Two years after I began to panic, I wanted to be sure God had healed me and I could have more children then we began trying for another baby…I saw my period again.
READ ALSO: Ask the Experts: Had My First Child Despite PCOS 4 Years Ago. Why Can't I Conceive Again?
I was devastated and I wept..( I am sure God must have been laughing at me) the next month, I had a dream where my mum was telling me I was pregnant. Few weeks after I was confirmed pregnant.
Not just that, I was carrying a set of twins. I was in awe of God…a set of twins!! From being told I was not ovulating to carrying a set of Twins… Haba this God!!! And after 9months, a week after our wedding anniversary they were delivered.
READ ALSO: What You Need To Know About Polycystic Ovary Syndrome
I don't know what you have been told but One thing I know is if God could bring to nought a negative report he is able to turn you situation around….Nothing can STOP him from fulfilling his promises concerning you.
READ ALSO: Part 2: What You Need To Know About Polycystic Ovary Syndrome
I have decided to share my testimony of God Mercies today to bring Glory to his name and encourage someone today."
Wow! Hope this encourages someone out there. Your time of joy will come!
Photo credit: Instagram