Sheer Wickedness! See What Nursing Mom Did to Her Husband's 10-Year-Old Brother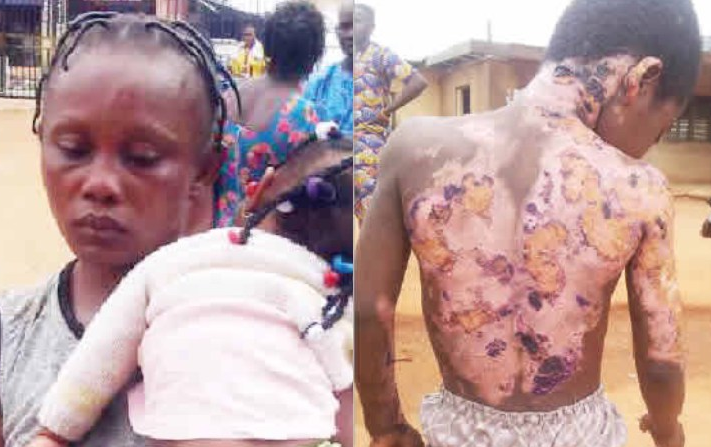 A nursing mother allegedly set her husband's 10-year-old brother ablaze because he misplaced his trousers and could not produce them when she demanded them from him.
The little boy, name Chimobi has been taken into protective custody by the Lagos State Government after his brother's wife, Gift Igwe purnished him wickedly.
According to PUNCH Metro, the incident took place of the at their home on Adenugba Street, Agunfoye, Ikorodu where the Ebonyi State indigenes lives as a family .
Residents of the community, who heard the cry of the victim disclosed that they came to his aid put out the fire, during which Chimaobi reportedly passed out.
Policemen from the Igbogbo division were said to have arrested the suspect while Chimobi was subsequently rushed to the Ikorodu General Hospital, Ikorodu.
A source revealed that the child was brought to Lagos in 2016 by older brother to start living with his family and since then, Gift had been abusing Chimobi.
"He is the younger brother of the man, who is a security guard in a firm. He was not enrolled in any school after he was brought from the village.

The brother wanted him to be assisting the wife, who had a baby about a year ago, with house chores and other things.

The woman has been abusing him for some time now. There are marks of past floggings on his body. He also has sores.

People in the community could no longer keep quiet when the last incident happened on Wednesday, September 6. She poured kerosene on the boy and lit him with a matchstick."
READ ALSO: Shocking! Woman Set Ablaze While Using Mobile Phone at Petrol Station
The 10-year-old said he had some education before he was brought to Lagos from Ebonyi but was never enrolled into school by his brother and his wife in Lagos.
"I misplaced my trousers and 'mummy' (sister-in-law) poured kerosene on me and used a matchstick to light fire. People came to help me. I have not been going to school since they brought me from the village," he said.
Police Public Relations Officer, Olarinde Famous-Cole, noted that Gift had been granted bail because of her child, saying she must report at the police station daily.
READ ALSO:A 13-Year-Old Recently Set Ablaze By His Boss Has Just Been Buried
"We gathered that the boy was accused of misplacing something and because of that, she got kerosene and set him ablaze. Some Good Samaritans put out the fire. The boy is recuperating.

She is a nursing mother; she has a child that is less than two years old. She has been admitted to bail with instruction to be reporting daily to the Investigating Police Officer and the Office of the Public Defender, pending the conclusion of investigation.
He further revealed that government agencies, including a human right group working with the police in that area are involved and will follow due procedure.
READ ALSO: Tragic: Mother Sets Children Ablaze Leading to their Death in a Bid to Separate a Fight
All hands are on deck, especially in Lagos State to bring a halt to violence against children. We as individuals have a part to play. Report any form of child abuse to the authorities so that the perpetrators can be brought to book.
Photo credit: PUNCHMetro