It's Sad! Psquare's Peter, Paul & Jude Okoye Almost Come to Blows at Lawyer's Office [VIDEO]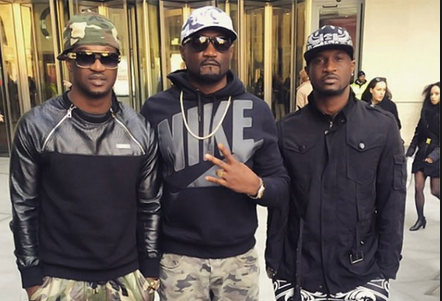 The Okoyes are still a constant topic of discussion in the headlines due to their ongoing social media crisis!
Just when we thought all was easing out between the Psquare brothers Peter, Paul and Jude Okoye, following the lovely message Peter sent elder brother, Jude who welcomed a baby girl yesterday – we got a shocker this morning!
A video which captured the brothers almost fighting and verbally assaulting each other during a mediation session at their lawyer's office, is currently setting the internet on fire.
READ ALSO: Psquare's Former Manager Jude Okoye and Wife, Ifeoma Welcome Second Child
From the angle of the filming, the awkward moment was captured by Peter.
This is coming after a termination letter of the Nigerian music group, Psquare was made public yesterday, confirming their split.
READ ALSO: Psquare Is No More! – See Termination Letter Peter Okoye Sent Their Lawyer
Following the viral video, Paul took to his twitter handle to react to it saying; "Wow!!! And he finally released tha all mighty video lol."

READ ALSO: Family Feud: All the Scoop About the Drama Between Peter Okoye & His Brothers
Here's the video made available to LIB as the Lawyer tried settling the issue between the estranged brothers.
Watch…
We hope the public display ends soon!