Side Chicks Beware! Facebook User Azubike Chinenye Narrates a Wife's Reaction to Husband's Infidelity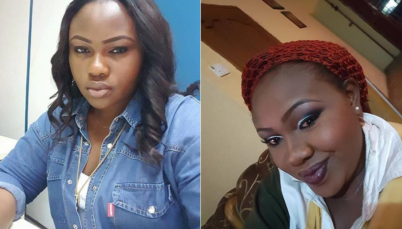 Nigerian lady, Azubike Chinenye took to social media to narrate how she woke up in the middle of the night to find her neighbour, naked and laying curses on her husband and his side chick.
According to her, the lady mentioned the name of the alleged side chick whom she referred to as Shantel Mukoro, saying she was in connivance with an Abuja pastor and would die of cancer.
The woman did not restrict her curses to the side chick alone, she also laid curses on her husband saying his manhood will never function again and he will be under house arrest for the rest of his life.
READ ALSO: Sonia Ogbonna Comes for Women Shaming other Women Because of a Man
Read what Azubike narrated below:
"Last night, my son sleep walked into my room and laid next to me. I am not a deep sleeper so I noticed a presence. I stood up to switch off the fan and allow the natural air so he doesn't get cold.

About to lay down and I heard a voice crying and saying, "unless my hands are not clean" I bent down and peeped through the window where I heard the voice from and saw a woman who I guess is my next compound neighbour.
READ ALSO: Do You Agree? Actress Seyi Hunter Says Wives Shouldn't Divorce Husbands Over Infidelity
She was naked standing with a pot or calabash or something. I wanted to take pictures but for the first time, I had to fear my life. She said and I quote, "Shantel Mukoro, you have decided not to allow me enjoy my marriage, you have made my husband your money machine. You and your pastor (name withheld but I know him, he's a popular man in Abuja) have used charm to get my husband.

Unless my hands are not clean, let evil come upon me but if I'm innocent and I've suffered with this man, let cancer eat you up. As for you my husband, may your manhood never function again.

Today, I transfer your glory to me, I will be the bread winner while you remain at home since you've decided to pay me evil for good". She kept repeating these words without mistakes 14x.
Do you know my happiness? She was kind enough to curse her husband same way she cursed the side chic. So if you're Shantel Mukoro based in Abuja and doing business with a fake pastor to get rich married men.
READ ALSO: Watch: Married Woman Thinks 'Side Chicks' are Important & Should Be Recognised!
Please start saving money for chemotherapy because that woman stood naked in tears cursing them. This happened exactly 1.23 am Nigerian time. Feel free to share until Shantel Mukoro sees this.

Now I know why some men who were once vibrant are now being controlled by their wives. Una good morning."
Hmm! These curses though.
https://www.facebook.com/jhoystin3/posts/1501600626574073?pnref=story
Do you think the woman was too extreme with her curses or did she handle the matter appropriately? Share your thoughts.
Photo credit: Facebook