The Wife vs The Baby Mama | Can They Ever Get Along? (Part Two)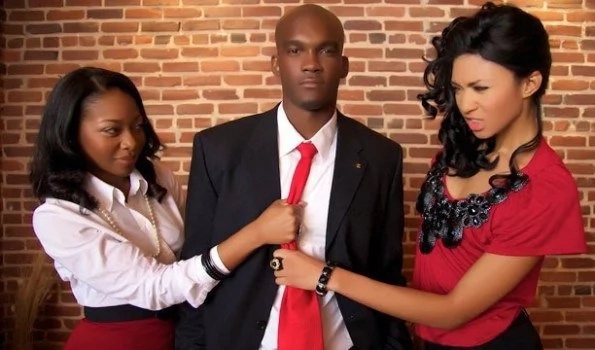 Adesua Iyoyojie
In Part One of this article we talked about issues that can arise in the relationship between the wife and baby mama.
The truth is that if you willingly entered into a complicated family situation that involved a baby mama, you owe it to yourself to try to make it work. Accept to go into that arrangement with the right motives or you might make a mess of things. A bit of compassion would go along way.
There are different ways to handle a baby mama situation and I recommend you avail yourself of them all.
You need to try to see the good in the baby mama even if it is hard – for the sake of the kid(s) involved, try. If you need to take the occasional break from family events, do. Find a skilled counselor to help you dismantle your anger, and commit yourself fully to the sacred responsibility of helping to raise this child.
READ ALSO: The Wife vs The Baby Mama | Can They Ever Get Along? (Part One)
Here are some ways of dealing with your husband's baby mama:
1. Understand where she's coming from
You have to remember that she shares a great bond with your man and she's probably still heartbroken over their break-up. Who knows? Maybe she thought the two of them were going to get married so that means she harbors a lot of hurt and resentment. So try not to take what she does personally, give her some time to get over it.
2. Accept that she will be part of his life forever
Trying to cause trouble between him and the baby mama is a futile exercise. They have a child together and that means that two of them will have to keep in contact and share responsibilities till the child becomes an adult. In this case the ex is not some nightmare you can wish away, she is here to stay and you have to find a way to make your relationship with her work.
READ ALSO: "If Your Husband Sleeps With Your Friend or Housemaid, Don't Quit" Liz Anjorin Bares Her Mind on Infidelity
3. Try talking to her woman to woman
In her mind, 'you took her man and now you want to take her child', so you need to sit her down and explain that although you will be playing a big role in her child's life, you are not there to replace her as the mother. You also need to set some boundaries and make her understand that a
You shouldn't have to deal with this drama alone; your man needs to take charge if and when the baby mama oversteps her mark. Make him aware of how you feel and let him handle it.
lthough you are prepared to give her and 'your man' some space when it comes to the child she must not abuse it.
4. Let your man BE a man
You shouldn't have to deal with this drama alone; your man needs to take charge if and when the baby mama oversteps her mark. Make him aware of how you feel and let him handle it.
5. Assert how you can create a time table you and your husband can work it.
If it is weekends you will allow the child come to the house, it is okay.
Just be in sync with your arrangements.
However if after doing all of these and the baby mama still seems difficult, it could be any one of these reasons:
◊ Your husband is still sleeping with his baby mama. He's complaining about you to her, and she can't respect you because she knows your secrets and fears.
◊ You've shown her she can get under your skin. A baby mama who knows how to push your buttons will do it for entertainment purposes. When she knows that all she has to do is send a text or say a word and you will react with venom, it gives her satisfaction to know that she can control you.
◊ They have always communicated in an unhealthy manner. What explanation did he give for their breakup? Did he explain that she was crazy? Did you ask how he reacted to her craziness? Why would you expect civil and rational behavior from a woman who is used to being disrespected by her ex? If your loving partner is being unloving to the mother of his child, she will react in the same way because that is the nature of their relationship.
READ ALSO: Woman Loses Pregnancy Over Suspicions of Husband's Alleged Infidelity
◊ She's finally asserting herself. After years of being in a relationship that has been abusive or diminishing to her spirit, the baby mama may finally realize that she has some power in her life and is overindulging in her right to say no or set guidelines.
◊ The drama is a cover-up for how she really feels. She may still have feelings for him; in fact, she probably does.
At the end, everything can still be civil between a wife and baby mama. But it depends on how the situation is handled.
Any stories on this topic? Share with the MIM community.