See Horrible Thing Babysitter Was Caught Doing to a Toddler | VIDEO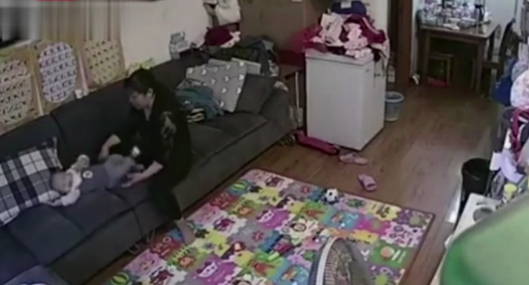 A woman who is said to be baby sitting a child in eastern China was busted after been caught on camera beating a toddler violently at home.
According to Daily Mail, the incident happened last Saturday and it was fully captured by the CCTV camera installed at the home.
The clip showed a middle-aged woman slamming the baby across a sofa while the parents were not at home in Hefei, Anhui Province.
The toddler's mother spotted bruise marks on the baby and confirmed the alleged mistreatment from reviewing the CCTV footage.
READ ALSO: Watch: Evil Nanny Caught Abusing Infant in South Africa
The mother, who has not been named reportedly told Pear Video that she found bruises on her child's shoulder and armpits when they got back home
"She (the babysitter) told me the baby got the marks from a hit to some objects," the mother said.
The father of the toddler believed the marks were caused by violent pinching and not what the baby sitter claimed.
READ ALSO: Shocking Video of Evil Nanny Violently Throwing Baby into Cot Like a 'Rag Doll'
The couple however, played back the surveillance camera tape and saw the babysitter throwing and cradling their children violently.
The babysitter confessed to the couple later and was allegedly begging for forgiveness by kneeling down on floor.
"She explained that she was not in a good mood the day and said she will bring a few hundred yuan (£50) to us to compensate,' said the mother.
READ ALSO: "I think a lot of moms get really scared of having a nanny" – Hollywood Mom Virginia Williams Opens Up about Parenting
The couple had already reported the incident to Hefei Police for her abusive behaviour.
Watch video below:
Photo credit: Instagram