WARNING: Mothercare, EBay & Tesco Ban Popular Baby Sleep Positioners over Toddlers' Deaths
Four major retailers have warned parents that baby sleep positioners can cause their newborns to suffocate following reports of 12 deaths in the US linked to the products.
The move comes after a health watchdog warned the pillows can cause babies to suffocate.
The 12 deaths linked to the products happened between 1997 and 2010.
The products are supposed to help infants sleep safely, however, according to a statement issued by the Food and Drug Administration (FDA) in America, the pillows, often called 'nests' or 'anti-roll' can cause babies to sleep in a position that could cut off their oxygen, the MailOnline reports.
READ ALSO: Warning: Foods That Can Negatively Affect Your Child's Mood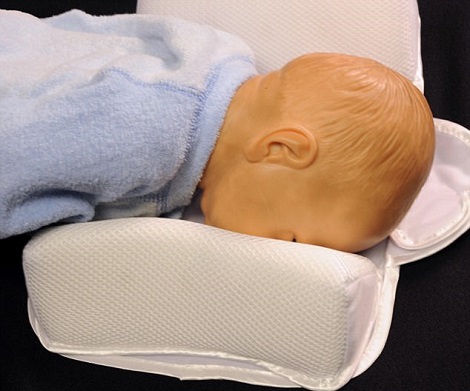 All the cases reported in the US involved tots rolling from their sides on to their fronts and they subsequently stopped breathing.
As a result, Mothercare, Tesco, and eBay have announced they are banning the controversial products.
READ ALSO: Ladies Beware! This Beauty Enhancement Product Killed This Mom of One (Details)
A Tesco spokesman said:
"We have removed these products from our website as a precautionary measure. These products were available online only, not in-store.

These products were sold by a third party on the Tesco website, not sold by Tesco itself."
A spokesperson for eBay also said:
"Following recent recommendations by US authorities, items of this nature will now be prohibited from being sold on our platform.

"Our team will be informing sellers and removing any listings that contravene our policies."
READ ALSO: Ministry of Health Warns Nigerians: "Don't use Fanta, Sprite & Coke to take any medicine"
In a statement the health watchdog said:
"FDA is reminding parents and caregivers not to put babies in sleep positioners. These products can cause suffocation (a struggle to breathe) that can lead to death."
READ ALSO: 5 Reasons Not To Give Your Child Fizzy Drinks | See Healthier Alternatives
Despite the body issuing the same safety warning seven years ago, sleep positioners are still being sold in stores and online in the US and UK.
Picture credit: HandOut