Breast Cancer Survivor! Ondo 1st Lady, Betty Akeredolu Inspires Hope as She Shares Her Touching Story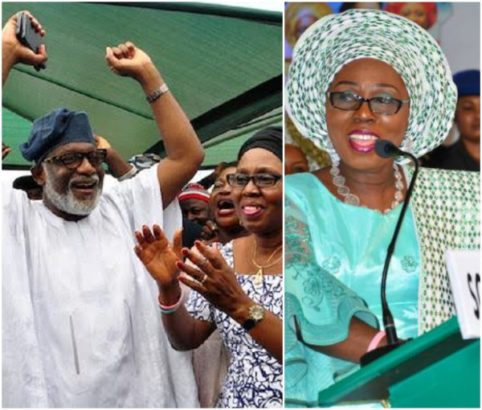 Founder of Breast Cancer Symposium of the Breast Cancer Association of Nigeria, BRECAN and First Lady of Ondo State, Betty Anyanwu-Akeredolu, has once again opened up on how she survived breast cancer 20 years ago.
Mrs Akeredolu, whose husband, Rotimi, became governor on February 24, was diagnosed with breast cancer in 1997 and is today a survivor and advocate.
AHEAD of the 20th anniversary, the amazing mother, in an interview with Vanguard, shared her story to give hope to women going through what she went through and survived.
Here's her story;
"I survived breast cancer about 20 years ago. It all started in 1997 when I was diagnosed. Before then, I didn't know anyone who had that experience and the little information I got was from the international media.

On that fateful morning when I felt something in my breast, of course, my mind raced to breast cancer because it was where such a disease was located.
READ ALSO:"I'm 3 years older than him. It was love that really endured" – Wife of Ondo State Governor-elect, Betty Akeredolu Reveals
I was scared and didn't know what to do; it happened when I was resting at home during my annual leave. It got me thinking that if this happened to be breast cancer, what was I going to do at that age?

I was 42 or 43 and I had little children. What would become of those children? I kept the discovery to myself for almost one week.
Speaking further, she narrated how a television programme she had watched inspired and saved her life.
READ ALSO: "How I fought breast cancer for 20 years" – Wife of Ondo State Governor Reveals
"My baby was just four years' old or thereabouts. So, I just tuned to television that morning and what I heard was that 'this programme could save your life'.

Immediately I heard that, I raised my head from the pillow, sat and began to wonder, what could this be? And it happened to be about breast cancer survival journey. That coincidence saved my life.

There was this woman and it was her journey through breast cancer diagnosis, and she happened to be the mother of a popular Hollywood actor.
READ ALSO: US Comedian Charlie Murphy Dies at 57 After Long Battle with Cancer
She went through the treatment and, as a survivor, was sharing her experience. She used her journey to lift the spirit of those undergoing such experience and I benefited from it.

That was how I summoned the courage to go to hospital, and said that 'whatever this woman did, I am going to be like her'.

After the examination, the doctor confirmed there was a lump, but he didn't know what it was.
When I told my husband, he was scared but he didn't know I had been fortified by that television programme I had watched.
READ ALSO: Hollywood Actor Pierce Brosnan Talks about Fatherhood, Losing His Wife & Daughter to Cancer in all New Interview
He must have wondered where I got the strength because I was on my feet and prepared that whatever that woman did, I was going to do and overcome. Then my treatment commenced.

The first treatment was mastectomy. At the said time (1997), the level of breast health care was at the rudimentary level.

Radical mastectomy meant 'just remove everything (breasts)' and I said 'remove the damn thing if that is what will make me live'.
READ ALSO: This Mum's Fight With Cancer Inspires Hope, Even as She Dies a Day After Giving Birth to Her Twins
My experience was one of shattering loneliness, unavailability of information and group support, coupled with the tight- lip syndrome and indifference surrounding the disease" she explained.
MIMers, you can also share your experience from this disease with us.
Thank you!