See How Much Royal Ruler of Tiv Land Accepted as Bride Price for His Daughter | PHOTOS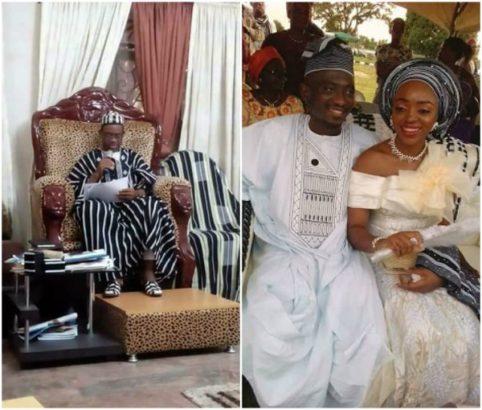 The royal ruler of Tiv land, Benue state, known as the Tor Tiv, HRM, Prof. James Ayatse has given out his precious daughter's hand in marriage over the weekend.
The wedding ceremony which was a simple event held in the Tiv land was the talk of the town due to the money of money paid as bride price.
READ ALSO: "Reduce bride price for Tiv women," – Benue First Lady Eunice Ortom Advises Tiv- elect Traditional Ruler
According to report, Tor Tiv, the 5th gave out his daughter Dr Doofan Ayatse who is a medical doctor, to her lover Dr David Tsenu Agishi of Etulo, Buruku local government, Benue state and received N1000 as bride price.
READ ALSO: Strange! This Grieving Mother Married a Pregnant 27-Year-Old Woman for Her Late Son … See Why
The bride price payment was an attempt of Tor Tiv to cut down on the high bride price amounts which was said to have chased many suitors away.
This comes after the wife of Benue State Governor, Mrs. Eunice Ortom, appealed to Tov Tiv, for a review of  high bride-prices in Tiv land in order to enable young men get married when due.
READ ALSO: Henrietta Kosoko's Burial Postponed as Her Family Claims Jide Kosoko Did Not Pay Her Bride Price
According to the Tor Tiv, the #1000 dowry will soon become a law in Tiv land to enable even the poor to marry.
He further disclosed that his concern is for the peace, love and progress of the couple, as no amount of money can buy his daughter in the name of bride price.
READ ALSO: 'My girlfriend is pregnant and I have been under pressure to pay her bride price' – Nabbed Kidnapper Spills
Here are photos from the event;