"You make my body & soul catch fire" Laurie & Feb Idahosa's Passionate Messages on 15th Wedding Anniversary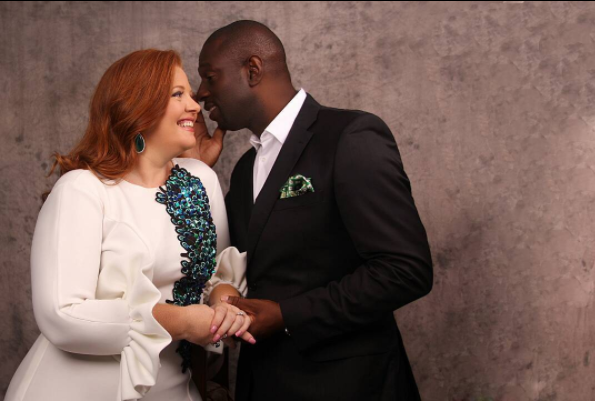 https://www.instagram.com/p/BaYJP7-FYeb/?hl=en&taken-by=febidahosa
https://www.instagram.com/p/BaX5bxHBa3i/?hl=en&taken-by=idahosalaurie
https://www.instagram.com/p/BaY4RldB0Jl/?hl=en&taken-by=idahosalaurie
Bishop Feb Idahosa the presiding pastor of the Church of God Mission International and his wife Reverend Laurie Idahosa who is an American are celebrating their 15th wedding anniversary today!
To mark their day, the express couple took to their various social media platforms to send heartwarming greetings to each other.
Gushing about her 'sexiest' hubby, Laurie, mum of three boys writes;
"You have taught me what true love really is… For the last 15 years, I have proudly carried your name as a badge of honor.

October 18th will always be the date that my world became a new and a better place. I wouldn't trade the joy, the pain, the thrilling moments or the low ones for any other experience. You are my love, my life, my everything.
READ ALSO: Laurie Idahosa: An American Answers Questions About Her Marriage To A Nigerian On Twitter
I am not just your lover. I am your best student. The biggest lesson you have taught me, in our first 15 years of covenant, is how to manage my emotional response when things don't go according to plan.

You are level headed, never angry, cool, peaceful, objective and most of all… you forgive. I have watched you forgive people whom I felt didn't deserve it.

It would make me so frustrated when you restore them and cover them, despite their wrongs. I didn't understand this until one day when I needed forgiveness from you.
READ ALSO: "One-Sided Love Just Isn't It…" – Relationship Hard Truths by Laurie Idahosa
You had every right to throw the book at me, but, you embraced me, covered me and forgave me from your heart. Your forgiving nature still baffles me and has inspired me to model my responses after you.

Your love has humbled me. Your love has transformed me.

Thank you for being the world's best example of Ephesians 5. Thank you for loving me, like Christ Jesus loves the Church.

Happy 15th Anniversary to the man who personifies love."
READ ALSO: Laurie Idahosa: How God Saved My First Son, Feb
She continues in another post;
"The secrets we share are some of the best parts of us. I married the sexiest, most romantic man who knows how to make every part of my body and soul catch fire. ????????????????????????????

Your gentle touch, your warm and loving eyes, your heart of love in its purest form… Thank you for the first 15 years. I'm ready for the next 85.

If given the chance. I would still choose you over every man on earth. Happy 15/100, sweetheart. @febidahosa

Happy 15th Anniversary."
Feb also wrote on his page;
"We said "I do" and it's variants 3 times. On October 18th, November 1st, and November 2nd, 2002.

Just a year after 9/11 changed the world forever, and brought me to Delaware instead of Houston, you changed my world forever. Thank you, my love, my Vida.
.
#WeddingAnniversary #15Years #85More."
Feb, first son of Bishop Benson Idahosa of blessed memory, the founder of Church of God Mission, also doubles as President, Benson Idahosa University, Benin City.
See her post below…
Here's wishing the amazing couple more bliss!
Photo credit: Instagram