"You guys are the problem not marriage" Celebrities Slam Timi Dakolo for His Views on Divorcees & Broken Marriages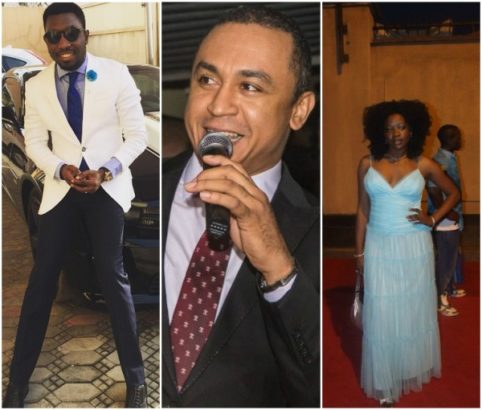 Nigerian singer and first winner of West African Idols, Timi Dakolo, yesterday took to his Instagram page to blame divorcees for the alarming rise of divorce in the country (read here).
According to the father of three, the people involved are the problem and shouldn't give marriage a bad name. He wrote;
"The way people are making divorce look like something kool.. . Like your marriage vow means nothing. It makes me wonder what they thought for better for worse meant.. If you weren't sure.

Why did you go ahead? Don't give love a bad name .. You guys are the problem not that marriage is bad.. This shallow and impatience generation… Fix yourself.

Marriage is for two complete adults … Don't enter into it with your incomplete self… Marriage will not make an incomplete person complete…

You should come into it prepared and complete… but what do I know?, am I not just a musician?."
Reacting to his controversial nugget, celebrities like Daddy Freeze, Toni Payne (both divorcees), and Uti Nwachukwu, have all disagreed with his views.
READ ALSO: Daddy Freeze Raises Questions On Why Some Marriages Fail While Other Unlikely Ones Last
Daddy Freeze and other celebrities had this to say about the post;
"So pastor Oyakhilome that got divorced is an incomplete person abi? A friend of mine nearly had his dick cut off by his ex wife.

She tied him down in his sleep, If not for the fact that his younger brother broke down the door and rescued him, today he would have been dickless.

I wish he had listened to TIMI'S advice and remained in the marriage with or without his penis, as long as he kept his vows abi? God punish bad people!

I am a living testimony that divorce from a bad situation is a HUGE BLESSING, as in baba blessing, my entire family and I rejoice everyday, thanking God for the gift of divorce.

If person wan kill you, no run o, siddon inside the marriage dey dance to Timi music ???? ~FRZ"
READ ALSO: UPDATE: Freeze Debunks Allegations of Domestic Violence and Infidelity by his Ex-wife Opeyemi| WATCH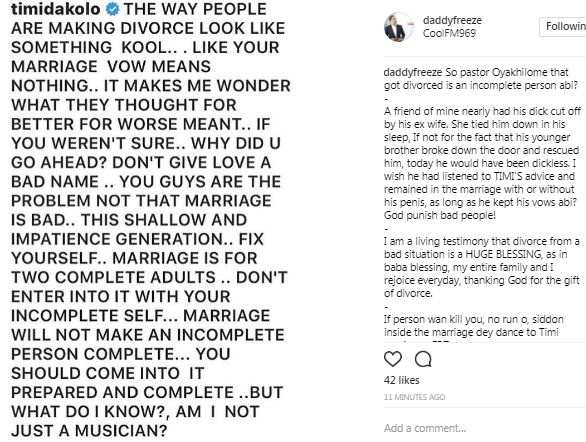 READ ALSO: 'One Type of Marriage that's Likely to End in Divorce'- Relationship Scientist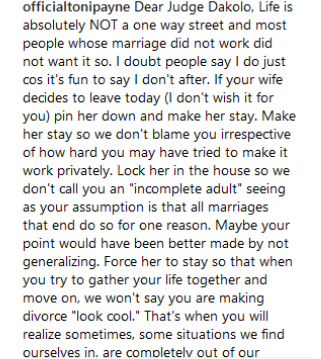 READ ALSO: 9ice's Ex-wife, Toni Payne Shares on Their Messy Split 6 Years Ago & Moving on

READ ALSO: 9ice Reacts to Ex-wife, Toni Payne's Recent Post on Forgiving Him After 6 Years