See How a Pregnant Housewife Tortured Her Underaged Househelp for Stealing Food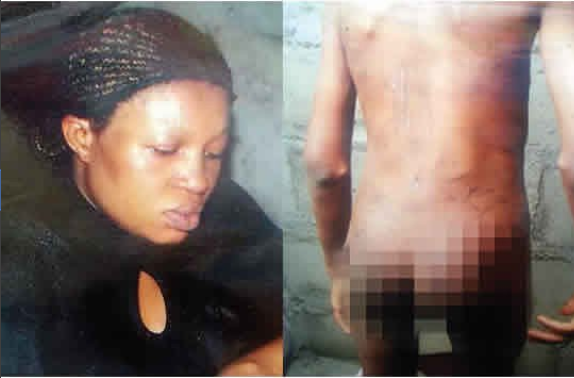 Juliet Ozoarinze, a pregnant housewife, who lives around Ijesha, Surulere area of Lagos State, has been arrested  following multiple assaults on a 10-year-old girl, Blessing since she started living with her family in July 2017.
Punch reports that the mother of four used different objects on Blessing over allegations of being tardy in running errands, not being prompt in answering summons and practicing witchcraft.
She was also alleged to have used a knife to cut the little girl in the hand for allegedly stealing and eating the food meant for her own children.
READ ALSO: If You Are a Child Abuser, the Authorities Are Coming After You | See Why
Juliet's arrest came after her husband, Kenneth, refused paying for Blessing's medical treatment, but instead returned her to her aunt, Vivian, who gave the couple the child because Kenneth was a family friend, on Tuesday, October 17.
"Blessing's mother lives in Abuja and she has four children, including her.

She had been saddled with the care of all the four girls. We thought the couple could assist with Blessing's education in exchange for helping them with house chores. The man suddenly brought the girl back to our house.
READ ALSO: Unbelievable Child Abuse: Heartless Dad Assaults 3-year-old Son for Defecating in Bedroom
The woman used a knife to cut her in the hand and the man said he was not happy with the wife. After he left, I saw that she could barely sit and I asked her to remove her clothes.

I was alarmed at the extent of her injuries and she told me that Juliet had been torturing her since she started living with them.

I called Kenneth and asked if he knew about the girl's injuries and he denied. He came back and was angry to see all her sores. I asked him to pay for the girl's treatment, but he refused and said he didn't have money," Vivian said.
READ ALSO: 4 Reasons Not to Employ a Minor as a Maid
After several attempts to convince Kenneth to pay for the girl's treatment, she reported the case at the Lagos State Office of the Public Defender.
An official of the agency revealed that the Divisional Police Officer promised to charge the woman to court at the end of investigations.
Photo credit: Punch