"It's unethical for a woman to sit close to a man that is not her husband"- Commandant of Kano Hisbah Board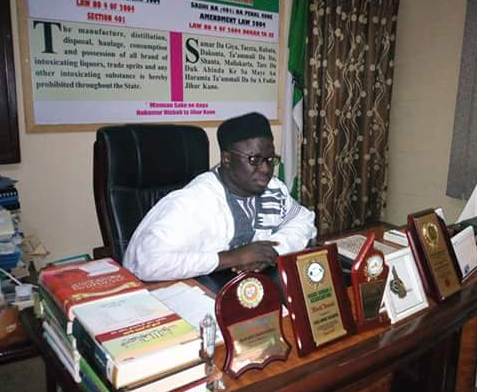 Malam Aminu Ibrahim Daurawa, Kano state commandant of Hisbah board, has called for the separation of male and female passengers in public means of transportation.
Malam Daurawa said this while delivering a lecture on the position of Islamic law on the relationship between male and female passengers in public transport, during a one day sensitization seminar organized by the office of the senior special assistant to Governor Abdullahi Umar Ganduje of Kano state.
According to Daily Trust, he said;
READ ALSO: "Forcing a Muslim to Do Family Planning Is Forcing Him to Violate the Rule of His Religion" – Hon. Kazaure
"Women are highly dignified, they are being dignified in Islam and anyone who dignifies a woman dignifies his biological mother as well; that was why God did not allow anyone to come into being except through a woman.

Islam teaches and preaches dignity for women and thus requires that we protect them, and to care for them.
READ ALSO: Islamic Group, MURIC, Blames The Increasing Rate of Rape on Women. Do You Agree?
It is not ethical therefore for a woman to sit very close to a man that is not her husband to the extent that they would be robbing shoulders," he added.
In addition, he advised tricycle operators to use their business as a means of serving God and humanity urging them to desist from all acts of immorality, drunkenness and all forms of un-Islamic behavior that may delude them from their faith.
"I got a case from Fagge command that some young tricycle operators now use pornographic films to lure their vulnerable female passengers to sexual immorality.
READ ALSO: Is it Wrong For Children to Hawk? Deputy Bursar, UNILORIN Air His Thoughts On This
Some of you are into the habit of taking advantage of your trade to rob people of their belongings, if you want this business to flourish you must stop all these unholy practices," he charged.