"No one prays for it to happen"- Toke Makinwa Slams Nigerians Trolling Divorcees
'On Becoming' author Toke Makinwa is standing up against the act of shaming divorcees.
She made this comment while responding to a discussion between two Instagram users who were weighing in on the social media brouhaha between Cool FM presenter, Daddy Freeze and singer Timi Dakolo.
Both have been engaging themselves in a dirty fight concerning the ideology of marriage and divorce (read here).
READ ALSO: "I'm not ashamed . . ."- Toke Makinwa Shares Thoughts On Her Divorce In Response To Fans
Freeze, who is a divorcee seemed to have dismissive opinion about the subject, while Dakolo, a one-time Idols West Africa winner feels a union between a man and wife should be sacred.
The heated conversation between the pair soon became an issue of who is in a more informed position to offer marriage advice.
Toke, who is also a divorcee took to her Twitter handle to condemn the act of shaming divorcees after a Twitter user mocked her for always dishing out relationship advice.
READ ALSO: "There is more to life than the shame I went through in my crashed marriage." Toke Makinwa On Giving Marriage Another Shot
See the tweets below…
"The annoying thing is that@tokstarr used to talk about relationship on radio until she got served," an Instagram user King Kennedy wrote.
The media personality retorted saying, "Got served by who???? Who gon serve me???
"The ultimate shaming of people who have or are going thru this thing called 'divorce' must stop. No one prays it to happen.

"Life happens. You deal the hand that you have been dealt and keep it moving," she added.
READ ALSO: Toke Makinwa Spills On Failed Marriage, Sex Tape, Bleaching To Keep Her Man, And More In Her Book 'On Becoming'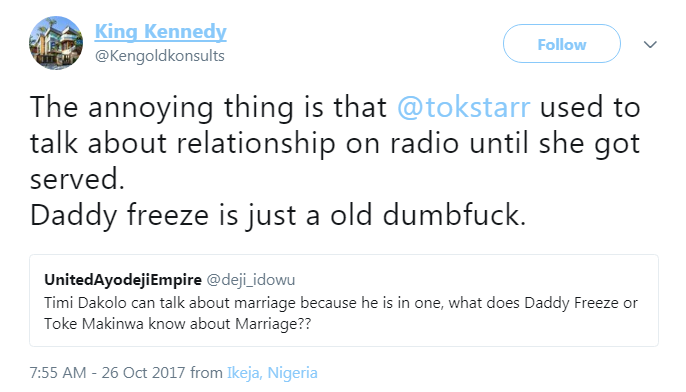 READ ALSO: Toke Makinwa Wades in on Emotional Abuse in Homes: "It's a Cycle We Must Break"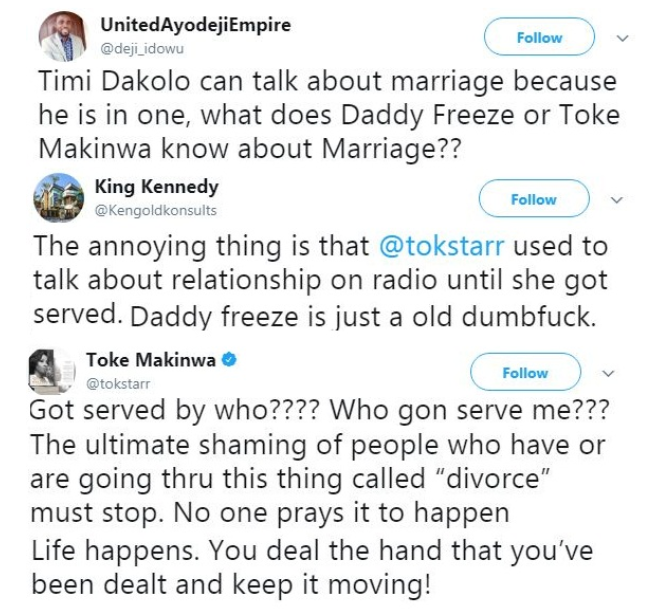 Makinwa recently crossed a big hurdle in her life when an Igbosere High Court in Lagos dissolved her three-year-old marriage to Maje Ayida over allegations of infidelity during their union (read here).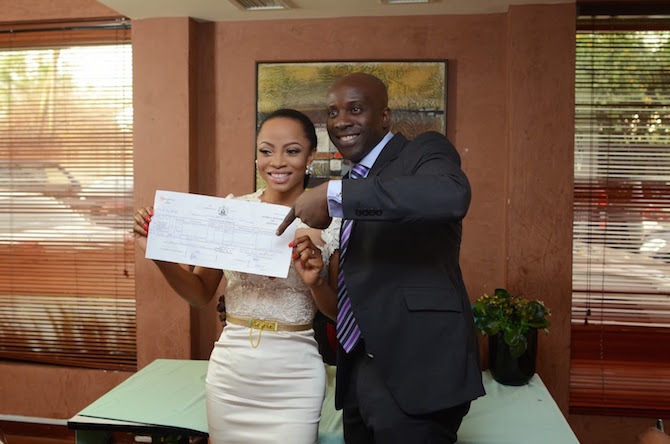 She covered some of her rough experiences in last published book "On Becoming". She is now a source of inspiration to the women-folk, especially those who have gone through a similar path.
Photo credit: Instagram