6-Months-Old Pregnant Woman Opens up on Medical Conditions That Has Caused Her Belly to Grow "Backward"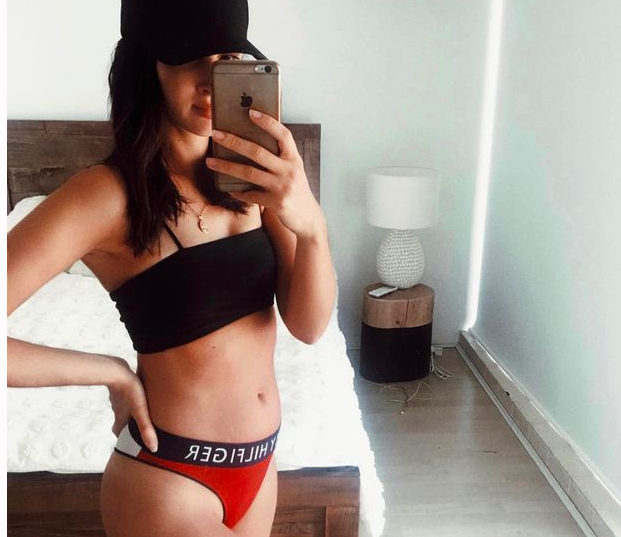 Baby bumps come in all shapes and sizes. But every time Yiota Kouzoukas, a fashion designer from Brisbane, Australia, posts pictures of her tiny pregnancy belly on Instagram, she receives body-shaming messages from some of her fans.
The Australian mom-to-be, 29, who's now six months pregnant with her first child, has more than 209,000 Instagram followers, some of whom have commented on the modest appearance of her baby bump.
"The worst comments have to be the ones along the lines of, 'No more baby in that belly,' or, 'Start eating more so your baby can grow.' When I first started seeing comments like these, I became paranoid that something was wrong," she says.

"I wanted other pregnant women to know that my size was due to physical attributes that are out of my control."
READ ALSO: You'd Never Guess Fitness Addict Sarah Stage Is 8 Months Pregnant – See Photo
She recently schooled haters through her Instagram post, explaining the medical conditions that have caused her baby belly to grow "backward".
"*BUMP SIZE* I receive a lot of DMs and comments regarding the size of my bump, which is why I want to explain a few things about my body. Not that I'm upset/affected by these comments at all, but more for the reason of educating in the hope that some people are less judgemental on others and even themselves.

For the first 4 months of my pregnancy, my uterus was retroverted/tilted which means that I was growing backwards into my body rather than outwards. Most people with this type of uterus tilt forward at around 12 weeks and continue growing outwards like you normally would.
READ ALSO: Still No Visible Bump? Pregnant Sarah Stage on Why She Still Works Out at 8 Months
My uterus didn't "flip forward" until well into being 4 months pregnant because of the backwards tilted position paired with decade old endometriosis scarring that I have on my uterosacral ligaments.

Basically, these ligaments are acting like anchors keeping my uterus "inside" rather than "outside", which is why I appeared smaller than most people for the first 4 or 5 months.

Now, at #6monthspregnant I'm growing forwards just like everyone else while the scarring on my ligaments slowly breaks down.
READ ALSO: Baby Is Finally Here! Six-Pack Mom Sarah Stage Gives Birth to 2nd Child
My torso is also short and my stomach is naturally toned which is keeping my belly super tight, so I've had to personally stop all ab exercises to avoid any issues with possible ab separation. This is for me personally, as instructed by my doctor and is in no way a blanket rule for anyone else.

I'm perfectly healthy, baby is perfectly healthy and that's all that matters. Our bodies and bumps are all different and our shapes and sizes are all different too ❤️."
READ ALSO: Falling When Pregnant: 5 Things That Can Make You Fall and How to Avoid Them
https://www.instagram.com/p/BZsy5MDFR14/?hl=en&taken-by=yiota
READ ALSO: Ready to Pop! Stunning Sarah Stage Flaunts Toned Tummy at 9 Months Pregnant
An OB-GYN and clinical professor at the Yale School of Medicine Mary Jane Minkin believes Kouzoukas most likely has a retroverted uterus.
"About 30 percent of women have a uterus which is titled towards the back, and it is seldom a problem during pregnancy," Dr. Minkin told Women's Health on Monday, October 23.

"As the uterus grows, it almost always starts tilting forward."
According to Minkin, women with a retroverted uterus might not "show" until their uterus changes position.
Here are some of her photos below;
https://www.instagram.com/p/BakUJ1CliU4/?hl=en&taken-by=yiota
https://www.instagram.com/p/BaBd_okFD6S/?hl=en&taken-by=yiota
Photo credit: Instagram/Yiota