18-Year-Old Pregnant Woman Reveals Why She Went Into Armed Robbery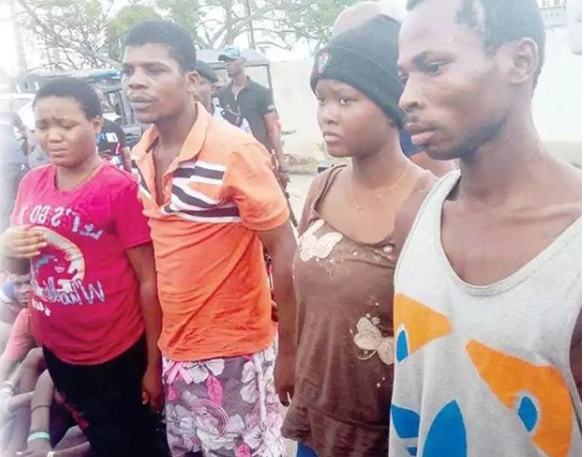 An 18-year-old woman, Divine Preye Idan, has confessed to the Police in Bayelsa State how she assisted her 35-year-old husband, Idan, to rob a boutique in Biogbolo-Epie, Yenagoa Local Government Area of the state.
The expectant mother of one and her husband who were arrested at gunpoint during their operation on September 21, 2017, said they got the locally made pistol from another couple, Iro Royereyigha, 30, and Abani Perelebina, 18.
Divine said when she hatched the robbery plan alongside her husband, they had wanted to use a toy gun in executing their plot, but changed their mind after Iro and his wife, said they could get them a rifle, The Nation reports.
READ ALSO: 22 Suspected Kid Robbers Arrested For Robbery, Stealing And Cultism In Lagos
"Both of us went for the robbery. We went to the house of Iro and Ida to get a toy gun to threaten people for money.

But Iro said he had no toy gun but promised to get a rifle one for us. He told us he could get a locally-made gun popularly called Awka gun. He said we should give him money.

But we told him that what we had was only N1000. He said we should drop the N1000 but that we should pay N100,000 after the operation. We agreed and I gave his wife, N1000.
READ ALSO: See Why This Married Dad of Two Took to Robbery
But when my husband went to collect the gun, I couldn't go with him. I only went with him for the robbery."
Divine, who hails from Kalabari in Rivers State, said she and her husband, an indigene of Odi, in Kolokuma-Opokuma Local Government Area, mapped out a strategy to steal from the boutique.
READ ALSO: 'My Parents Forced Me into Robbery' – Nabbed Suspect Spills
"We had an arrangement. The plan was that on entering the boutique, I would pose as if I came to buy some clothes. After collecting the items, I would do as if I had money to pay while my husband would threaten them with a gun.

Everything was going as planned when my husband asked me to go and get tricycle to convey us and our stolen items out of the place. As I left, one of the girls, who lay flat on the ground ran away and called for help," she added.
READ ALSO: Nabbed Mum-of-3 Recounts How She Abandoned Family in Benin & Joined Robbery Gang in Lagos
Divine's husband corroborated his wife's account of their criminal act, but said it was their first time of engaging in robbery.
Idan said they were dealing on timber adding that hardship drove them into robbery. He appealed to the police to forgive them.
On his own part, Iro, a father of 11 children from two women said he got the gun from a friend and handed it over to his second wife, who subsequently gave it to Divine's husband.
READ ALSO: 13 & 15-Year-Old Boys Caught During Robbery Tell How They Were Trained
He further said temptation led him to commit the crime and to involve his wife in the criminal act.
Confirming the incident, Bayelsa State's Commissioner of Police, Amba Asuquo, who paraded the couples before newsmen said the suspects and the gun hiring couple will be charged to court after investigation.