"He was a cheating piece of filth…"- Woman Defends Alleged Husband Killer Maryam Sanda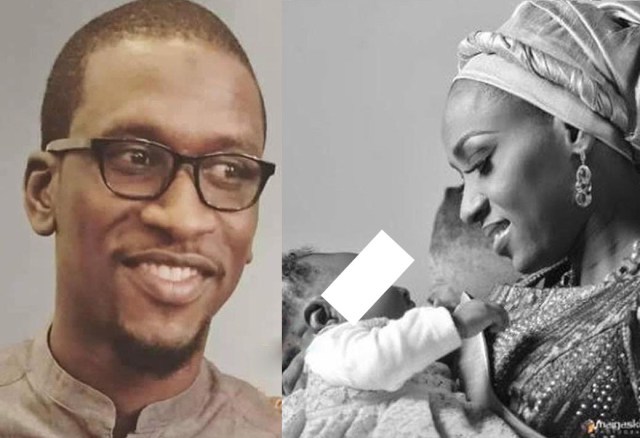 We reported some days ago that Bilyamin Muhammed Bello, the son of a former Peoples Democratic Party Chairman, Haliru Bello, was on Saturday allegedly stabbed to death in Abuja, by his wife named Maryam Sanda (read here).
However, one Maryam Aliyu, from Kebbi State, has come out to defend her namesake saying Bilyamin got what he deserved because "he was a cheating piece of filth".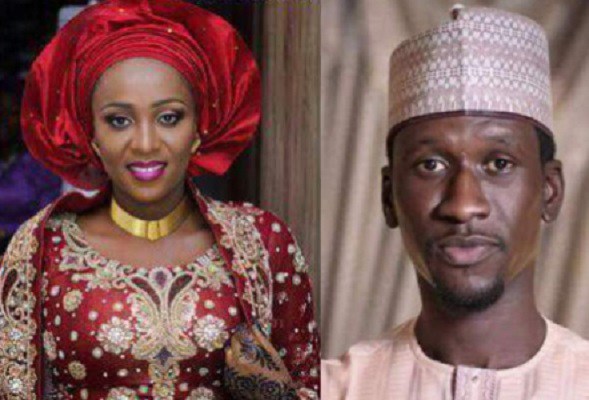 READ ALSO: "This Is the Only Solution to Domestic Violence" – Nollywood Actor Yemi Blaq
"Many people weighing into these Maryam Sanda and Bilyaminu Halliru talk ignorantly without knowing the details.

There isn't enough evidence that she committed the said murder, matter of fact the only mystery proven is he was a cheating piece of filth and if you ask me, he got what he deserved.

I'm leaning more on the argument that he died in a fight and it was not a cold blooded murder. Stay strong Maryam, Allah is with you."
READ ALSO: Domestic Violence: Ibadan Lawyer Accused of Stabbing Husband to Death Shares her Side of the Story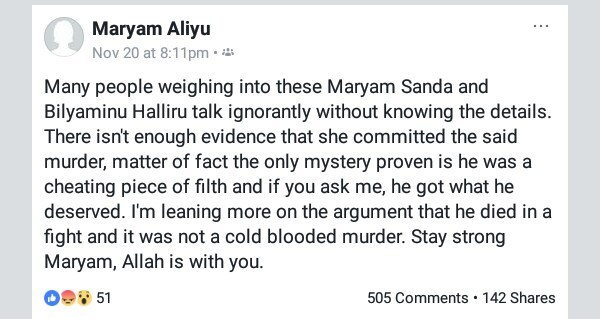 In the tragic case of domestic violence, it was gathered that Maryam, the daughter of embattled former Aso Savings boss, Hajia Maimuna Aliyu, stabbed her hubby three times in the back and severally on his private parts in the early hours of Sunday, at their residence in Pension Estate, Pakali Close, Wuse 2, Abuja.
READ ALSO: Wife Allegedly Stabs her Husband to Death with Scissors in Another Domestic Violence Case
She then drove the deceased to Maitama hospital where he was confirmed dead. Prior to this, Maryam had inflicted injury on her hubby. He was advised to leave the house but he chose not to.
According to reports, the attack which happened in the night stemmed from an allegation of infidelity after she saw a text message on his phone.

READ ALSO: 'My Girlfriend Called off Our Wedding Because of a 'Small Slap' – Nigerian Man Laments
The couple got married in 2015 and has an eight-month-old daughter.
Photo credit: Facebook