BBNaija's Uriel Writes Moving Letter to Her Mom Suffering From Dementia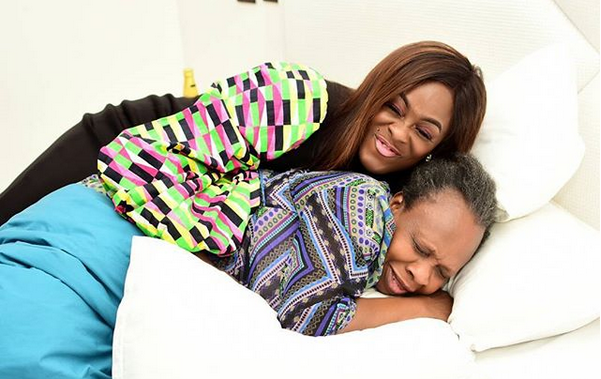 https://www.instagram.com/p/BcPOoonnmjr/?hl=en&taken-by=urielmusicstar
Big Brother Naija's 2017 ex-housemate, Uriel Oputa, took to Instagram to pen down an emotional post to her mum, Mrs Blessing Jerry Oputa, who is suffering from Dementia.
According to the proud daughter, even though her mom's disease wants to take her away, she's got enough memories of her to last a life time.
"Even though you're sick and most times you are confused and scared, you always support me. You follow me to work interviews and shoots.
READ ALSO: "I'm proud of my natural saggy boobs"- BBNaija Uriel Has a Message for Body Shamers
Even though you sometimes forget how to walk, I will always be your legs I will take you any where you want to go.. push you on your wheel chair fast or slow.

Even though you can't remember how to cook, mummy no need I learnt from the best I'm all you need that's the truth.

Even though you can't dress or wash your self, mummy pls don't worry every day is your spa day.. plus I love being your stylist.
READ ALSO: Together Forever: Couple Die Holding Hands After 58 Years Of Marriage
Even though you forget how to pray Your Amen is enough you raised a prayerful daughter.
I love you sooooo much.

Even though Dementia wants to take you from me.. just know I have memories to last a life time. Feeling blessed.

IN ALL GIVE Thanks
My inspiration. Mrs Blessing Jerry Oputa," she wrote.
READ ALSO: Walking 25 Minutes A Day Can Add Seven Years To Your Life – Study
Dementia is not a specific disease. It's an overall term that describes a wide range of symptoms associated with a decline in memory or other thinking skills severe enough to reduce a person's ability to perform everyday activities.
Vascular dementia, which occurs after a stroke, is the second most common dementia type. But there are many other conditions that can cause symptoms of dementia, including some that are reversible, such as thyroid problems and vitamin deficiencies.
While symptoms of dementia can vary greatly, at least two of the following core mental functions must be significantly impaired to be considered dementia:
Memory
Communication and language
Ability to focus and pay attention
Reasoning and judgment
Visual perception
People with dementia may have problems with short-term memory, keeping track of a purse or wallet, paying bills, planning and preparing meals, remembering appointments or traveling out of the neighborhood.
Photo credit: Instagram