Nigerian Woman Who Skipped Antenatal Care Delivers Severely Malformed Baby (Photo)
A Facebook user, Ukan Kurugh, shared photos of a 3-day-old baby born with multiple malformations in Benue State.
According to Kurugh's post, the baby's mother said she never for once went for antenatal till she gave birth to the child and since delivery, her the baby's gender has not been known.
Kurugh, who is now soliciting for help from the Benue state First lady Mrs Eunice Ortom wrote on Facebook,
READ ALSO: Woman Discovers 'Stone Baby' in Her Abdomen 15 Years After Abortion | PHOTOS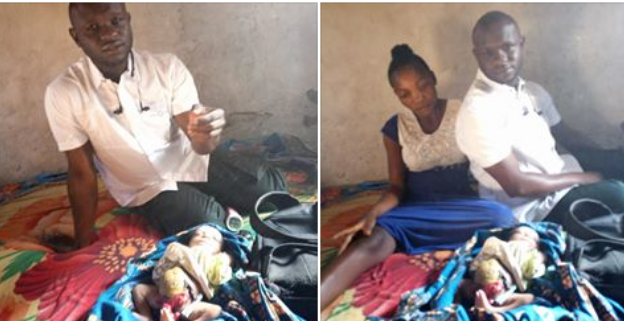 "THE ATTENTION OF THE BENUE STATE 1ST LADY DR. MRS EUNICE ORTOM IS NEEDED HERE ASAP.

This is Mr and Mrs Nambe, a resident after Kimbis Hotel otukpo road makurdi.
The picture you see up there is their 3 day old baby that was delivered in a dispensary along the same residential area. She told me she never for once went for anti-natal till she gave birth to this child. I was called to this case by a friend Atokaa Paul.
Till now nobody can tell the sex of the child because of its complex nature mere looking at it. I have moved them to Foundation Memorial Hospital low level.
I need someone to call the attention of the first lady Dr. Mrs Eunice Ortom to as a matter of fact take of this case as am afraid this might be way above me.

I can be reached on 08069082285."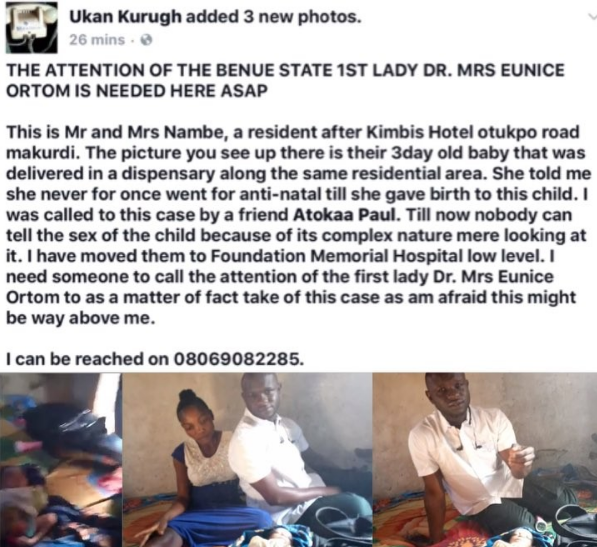 Photo credit: Facebook