Alleged Husband Killer Maryam Sanda's Trial Commences Today in Abuja (Photos)
Maryam Sanda, wife of late Bilyaminu Bello, son of ex-PDP chairman, Haliru Bello, who was stabbed to death at their home in Abuja sometime in November (read here), appeared at the high court in Jabi, Abuja today December 7th as she is being tried for homicide.
At the court, the police amended the charges against her, including her mother Maimuna Sanda, her brother Aliyu Sanda and one other person, as co-defendants.
The co-defendants have been accused of tampering with evidences that would be used in the case.
READ ALSO: More Shocking Secrets of the Marital Life & Tragic Death of Bilyaminu Bello
After receiving the amended charges, Justice Yusuf Haliru, ordered Maryam to be returned to the Suleja Prison after her bail was denied.
The case has been adjourned to 14th of December 2017 when 3 persons alleged to have tampered with evidence would be arraigned.
READ ALSO: 'Emotional abuse is deadlier than physical abuse'- Who Agrees with Tope Delano?
Maryam came to court cuddling her eight-moth old daughter.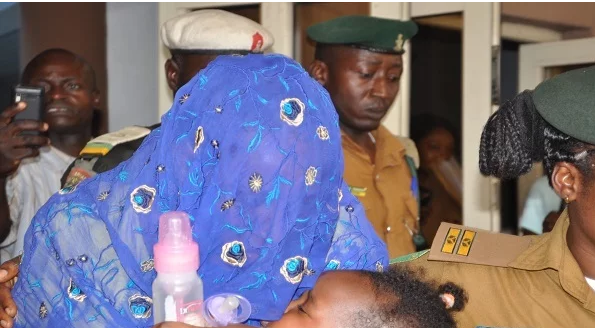 In the tragic case of domestic violence, it was gathered that Maryam, the daughter of embattled former Aso Savings boss, Hajia Maimuna Aliyu, stabbed her hubby three times in the back and severally on his private parts in the early hours of Sunday, at their residence in Pension Estate, Pakali Close, Wuse 2, Abuja.
According to reports, the attack which happened in the night stemmed from an allegation of infidelity after she saw a text message on his phone.

Photo credit: Liberty TV