Nigerian Dad Confronts Pervert for Sexualising His Baby Daughter: 'Will protect my kids with my life'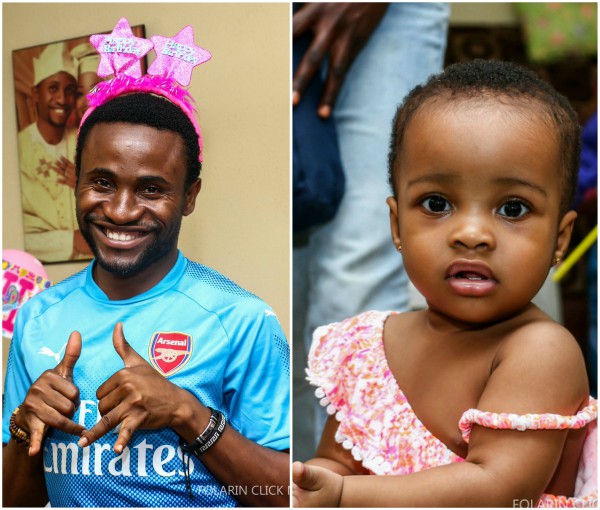 So a Nigerian dad, Emmanuel Nwachukwu took to Twitter to reveal what he did to someone who asked why he "exposed his baby daughter's breast" in an innocent photo.
Nwachukwu, who's a customer service consultant, said he innocently updated his Whatsapp with this adorable photo of his infant daughter and an apparent pervert, someone he knows called him to ask why he exposed her breast.… what followed next is what has us in talks.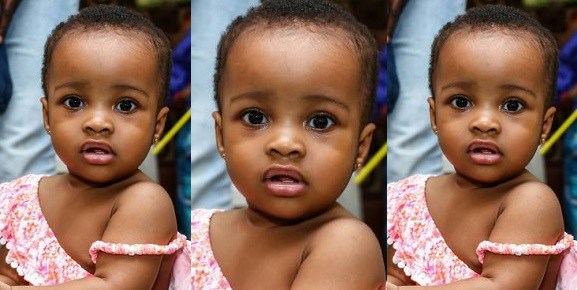 Outraged by this, Mr Nwachukwu said he immediately left his office, armed with a club and drove to the person's house to confront him.
READ ALSO: Possible Pedophile Attempts to Woo Shina Peller's 11-Year-Old Daughter On Instagram | See Mum's Reaction
He shares his story – as he warns other parents to try everything in their power to keep their children safe – as thus:
"I updated my whatsapp with this picture of my daughter and somebody called to ask me why i was exposing her breast!

Fam! I left the office, drove to the bastard house club in hand, still bitter I got only one hit on the shoulder before people overpowered and restrained me!

You come close to my kids with your demonic sexual depravity and i swear on my mother's grave that I will in police custody for premeditated murder! I will club you to death and ensure your corpse is unrecognizable!
READ ALSO: Father Advises Parents To Monitor Their Children's Phone | See His Reason
Thunder fire you! Awon oloriburuku!

For 6 years I was sexually abused over and over again by my aunt in my father's house. Took therapy and strong outcries to God to suppress the sexually misconduct that characterised my life. Wish my parents looked out for me and protected me.

Will protect my kids with my life!
READ ALSO: Temilolu Okeowo Shares Disturbing Story as a Wake-up Call to Parents
Till date, I can't stand before a lady and ask her out! Can't express romantic feeling without turning to a stammerer with my hands and legs flowing with sweat like Niagara falls!

Still battling with the trauma of those years my aunt raped me repeatedly!

Protect your kids

If anyone ask much ask make suggestive remarks let alone touch your kids, kill, destroy or crush the demon! If you can afford legal services to defend you in court for standing up for your kids, come, I've got friends who will bear all the cost!"
READ ALSO: "I Wish He Was Cheating" – Hearbroken Wife Who Called Police On Her Husband Upon Discovering His Shocking Secret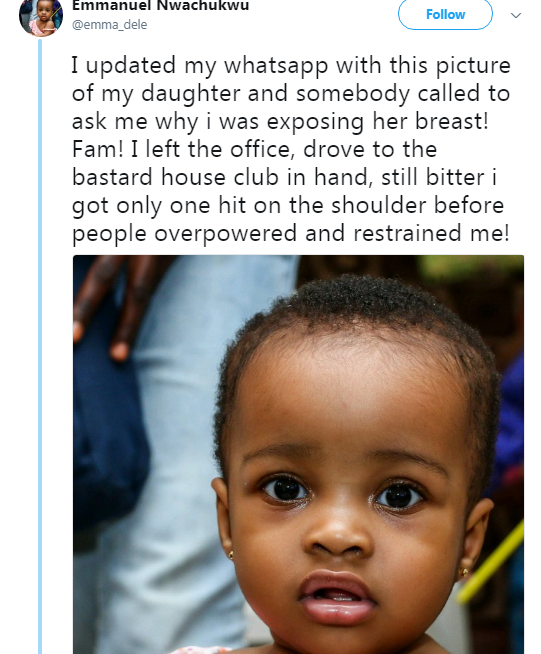 READ ALSO: Madness: Perverted Indiana Mom Sells Baby For Sex 1, 2, 3……8 Different Times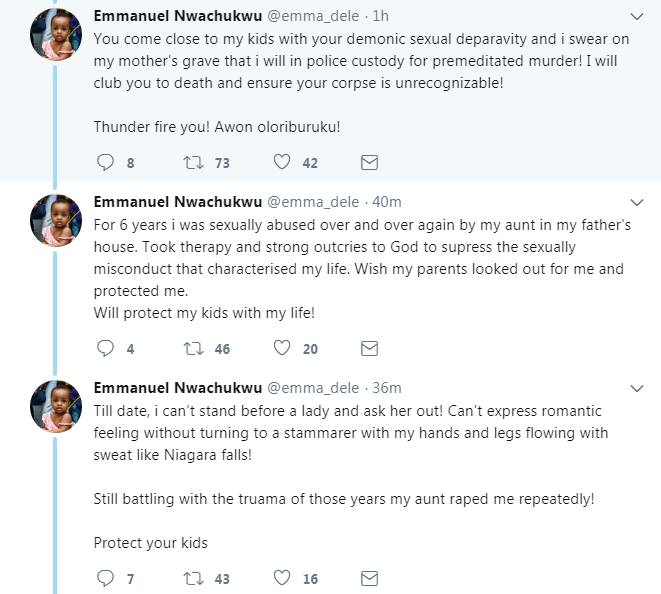 Photo credit: Twitter