Husband Gifts Wife Brand New Car For Exclusively Breastfeeding Their Baby
According to Dr. Sunday Yerumuoh, the Director of Primary Health Care in Akoko-Edo Local Government Area of Edo, exclusive breastfeeding of every infant for the first six months would give them access to vital nutrients for growth.
He said adequate breastfeeding provides necessary nutrients in the first six months of life that would enhance a child's physical and mental development.
In a relation to this, a Nigerian, Omo Olope bought his beautiful wife a brand new car, after she fulfilled her promise of exclusively breastfeeding their daughter for good six months.
READ ALSO: Significance of Exclusive Breastfeeding to Babies – Dr. Sunday Yerumuoh Advises
After the birth of their daughter, the husband requested from his wife to breastfeed their daughter for 6 months, exclusively, and if of course she keeps to her end of the "promise", he'd buy her a brand new car … and he fulfilled his promise.
The elated mother took to social media to share the good news;
"A good one to start the New Year. Hubby @kingpetrol said and I quote, if you will breastfeed our daughter @isabella_oretuga exclusively for 6 months I will get you a car.

Promise made and fulfilled. Thanks boo may God continue to bless you for us @annemaybel @yemisi.adekoya.90 @marybelnewlook_boutique"
READ ALSO: Why Giving Your Baby Water While On Exclusive Breastfeeding Could Be Deadly
The Husband also wrote;
"Congrats on your first car Wifey. I'll do even more for you. This is to say thank you for agreeing to feed our daughter(@isabella_oretuga) exclusively with breast milk only for 6months. ???? Congrats once again."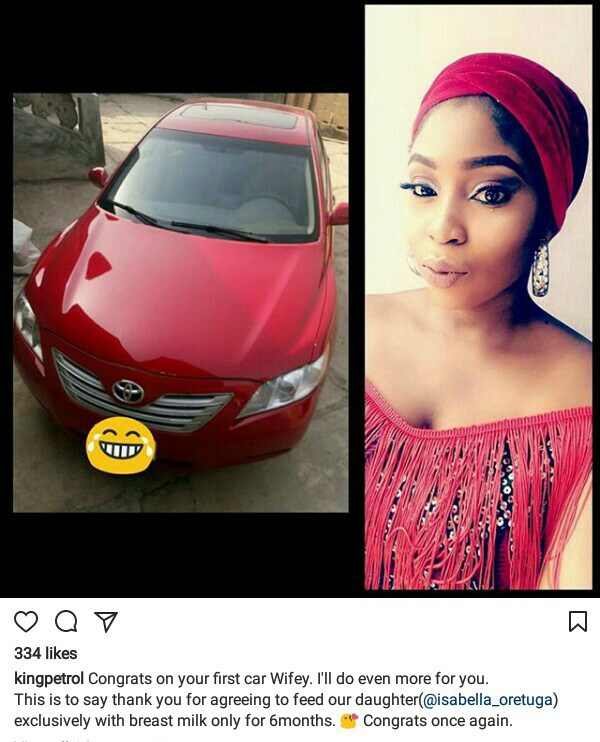 READ ALSO: Exclusively Breastfeeding Newborns With Insufficient Milk Could Cause Brain Damage – Mom of Special Need Child Shares Proof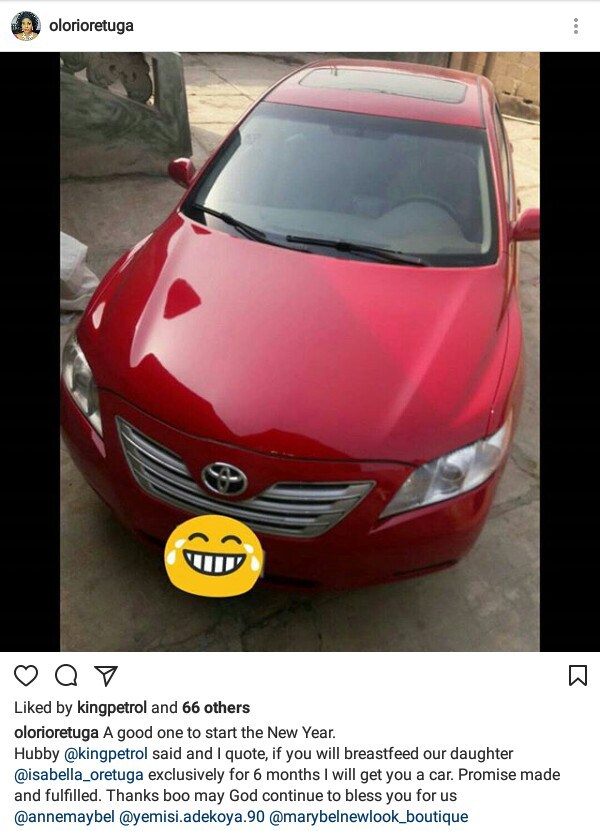 Photo credit: Instagram