UNVEILED! Why Pregnant Kylie Jenner Decided to Stay out of the Spotlight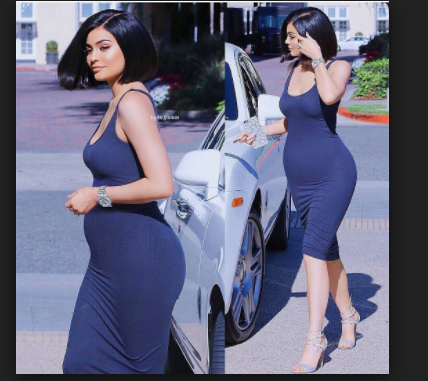 Reason why Kylie Jenner, the youngest of the Kardashian-Jenner clan has decided to stay out of the spotlight since news of her pregnancy has been revealed.
The beauty mogul and soon-to-be mom, 20, who's yet to confirm whether or not she is pregnant, following reports last year that she is expecting a baby with her boyfriend Travis Scott, is believed to be over six months pregnant with her first child.
According to US Weekly,
"She's very happy about the pregnancy but she doesn't want to share this with the world," an insider told Us Weekly.
"Her not being out is strictly personal preference. She wants to keep this one aspect of her life private."
The insider adds that after more than 10 years having her life broadcast to millions, she just wants to keep this special time to herself.
"She spent her adolescent life on television and has been famous for over 10 years now. If this is the first thing she wants to keep to herself, she should be allowed that. She's worked hard enough to do whatever she wants.
If you knew Kylie she can be very stubborn. When she makes her decisions, she sticks by them. This is a decision she made early on in her pregnancy and she's sticking by it."
READ ALSO: Kris Jenner Addresses Kylie's Pregnancy News
Meanwhile, it was recently reported that Kylie's baby daddy has dumped the make-up entrepreneur, but he insider claimed Kylie and 25-year-old Houston-based rapper Scott, whom Jenner began dating in April 2016, are still enjoying their relationship.
"They're very low-key. Up until recently, she was hopping private planes to see him most weekends."
It's been said that Travis recently had a man-to-man chat with her brother-in-law Kanye West, who spoke to him about the responsibilities of parenthood.
READ ALSO: Here's More Juicy Information About Kylie Jenner's Pregnancy
'It was an emotional conversation as Kanye explained to Travis how wonderful it is becoming a father for the first time, how his whole life is about to change for the better,' a source claimed.

'It was a beautiful, sweet moment between the two guys, but there was also an important point Kanye wanted to make to the younger rapper. Kanye made it clear to Travis that he needs to step it up big time.
Kanye is protective of all of his family and wanted Travis to know that he better not let Kylie down in anyway once the baby arrives, 'cause Kanye will be watching.'
Meanwhile, another source recently told Entertainment Tonight that Kylie has spent the past few months out of the spotlight in a bid to recharge her batteries.
"Kylie's worked hard her entire life, and being a mother will be a lot of work, so now is a chance for her to recharge."
Photo credit: Getty Images/BackGrid