Fresh Crisis in MKO Abiola's Family As Youngest Son Alleges Assassination Plot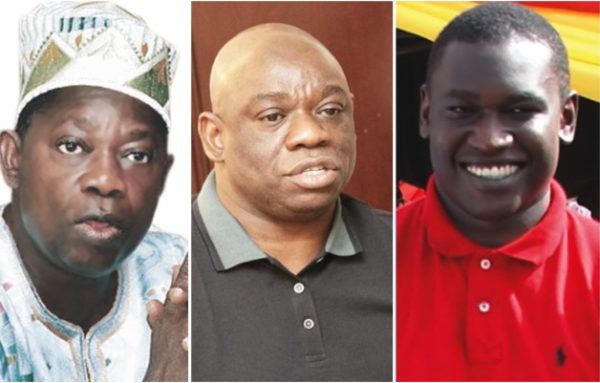 The youngest son of the late Chief MKO Abiola, Abdul Mumin Abiola, has called on the support of Nigerians to stop his brothers, Kola (pictured in the middle), Deji and Agboola Abiola, from preventing him from resuscitating their late father's projects, investments and businesses.
MKO died in questionable circumstances following his June 12th presidential election in 1993.
Mumin in his statement said he has overtime suffered series of harassment from his brothers because of his attempt to renovate his father's businesses, City People gathers. He asked the public to ask his brother, Kola, if anything should happen to him.
Read part of his statement below:
"I want my brothers, Kola, Deji, and Agboola to stop playing god with our father's properties and abandoned projects and investments. I, my brothers and sisters totalling 40 children of Abiola are not fighting with them.

We don't have a bone to pick with them. But we need to step out of the past and our father's shadow. Kola, Deji and Agboola have been peddling lies in the media about my efforts to bring about changes to the dwindling fortunes of the Abiola family.

I am ashamed just like my other brothers and sister to see that after MKO Abiola's death, many of his legacies appear to be in shambles. No, it shouldn't be like that. That is not what MKO Abiola stood for while he was alive.
READ ALSO: Robin Williams' Widow & Children Reportedly Still At Loggerheads Over Property
I want the good people of Nigeria to prevail on Kola and his cohorts to stop using the police to harass me or those who are working with me to restore the lost glory of the Abiola family. Every effort I have been making to renovate my father's properties is not self-driven.
It is for all my siblings and for the name of Chief MKO Abiola not to be dragged through the mud. Why should some people be sending thugs and miscreants after me and those working with me to renovate MKO Abiola's properties? Why should that be? Do we have to wash our dirty linen in the public? Why should only a select few of Abiola's children sit on our father's properties

I am not even asking them to give me and my other siblings a share of the money-spinning companies of my father that they sit on. Our humble request is that they should allow me and my other siblings who are interested in renovating Abiola's derelict properties.
READ ALSO: University Lecturer Did the Unthinkable to Her Husband over Property
I have been painstakingly patient for 18 years. Enough is enough.I am also informing the public that my life is in danger. I don't feel safe any longer. If anything should happen to me or my siblings, Kola and his cohorts should be held responsible. I love life but I will not sit down cowardly."
In an extensive interview with Bayo Akinloye, last year, Abdul Mumim talked about his estranged relationship with his elder brother Kola and other sundry issues relating to the Abiola Family.
When asked if he thinks his father's death, is responsible for the way things are at the moment, Munim replied;
"I can't be stuck in the past idealising my father's death. One has to move on. My dad stopped at a certain point; from there I should continue with my own life. It is the same way I expect my own children to continue from where I will stop.

One can't just get stuck in a place and (preoccupy himself with) reflecting on the past. There should be a paradigm shift and we should start thinking about how we can all try to make sense of everything that has happened.
READ ALSO: 'I'm the only legal wife of Ojukwu' – Bianca Tells Court As Legal Battle Over His Property Continues
You know the funniest thing about life is that five per cent of something is better than 100 per cent of nothing. So, I don't understand why people are always jostling for things that will only yield billions of naira.

I am ready to make N100,000 (monthly) for the rest of my life and be happy with that. I believe there is enough to go around. I think people are just greedy.

Like I said, I am not going to sit back, being a son of a great man and drive along the road and see his (Abiola's) properties in bad shape. It doesn't make sense.

I don't know maybe Kola thinks these things (Abiola's properties) belong to him. They do not belong to him (Kola) alone and that's one thing I am trying to make clear (to him).
READ ALSO: Sister Loses Right Eye During Alleged Fight With Stepbrother Over Dad's Property
That's one thing about a large family. If the eldest son said he doesn't want to farm and the youngest said he wants to farm, I don't think the former has any right to hold the latter from doing what he wants to do. If he's not ready to go to farm, I am ready to go to farm. He should just let me go; he should allow me and my brothers who are interested to do so.

It doesn't mean the farms will translate into large sum of money now. But the fact is we cannot continue doing the same thing without positive results. If we try the farm and things do not work out we can look at something else.

My point is that I am not going to wait for another 18 years. I am going to try something new and if it doesn't work we will look for another way. But we can't stay on one spot."