Film maker, Femi Adisa and Wife Share "Must Read" Marital Tips as They Celebrate 4th Wedding Anniversary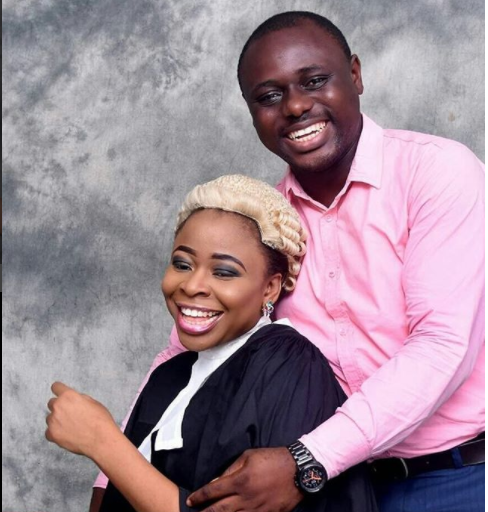 https://www.instagram.com/p/BZVvFKuFIyA/?hl=en&taken-by=femi_adisa
https://www.instagram.com/p/Bd44QZ1le_b/?hl=en&taken-by=femi_adisa
https://www.instagram.com/p/Bdz5cgRjX2Z/?hl=en&taken-by=adisaoyetomi
https://www.instagram.com/p/Bd1AU4HDIS8/?hl=en&taken-by=adisaoyetomi
Film maker/C.E.O. at LoveSeed Entertainment, Femi Adisa and his beautiful wife, Oyetomi Adisa celebrated their 4th wedding anniversary recently.
Within these four years of being married together, they have had four kids (two sets of twins).
Celebrating the anniversary, the mother of four shared their 'must read' marital tips via Instagram;
"Its our 4th Wedding Anniversary and i like to answer a few of the questions people ask me/us from time to time.
You can also DM your questions or ask in the comment section.
_______
HOW DID YOU KNOW HE IS YOUR HUSBAND?
Well, i had no vision or Bible passage from God. All i had was confirmations of the things i prayed for in a man.
God also showed me that he is a good man for me. God would give us the same instruction or idea almost at the same time during our courtship. It happened too many times.

To me, that meant God recognised us as one and approved of our decision to be together.
My husband has a different story about his conviction. Maybe he will share @femi_adisa.

2. DID YOU TAKE PILLS OR DO ANYTHING MEDICAL TO HAVE TWINS TWICE?

Yes! People have asked me and its a little shocking. Before I met my husband; i fell in love with twins and i really wanted identical twins. I may adopt identical twin girls in the future.lol

So i prayed for twins, gave to twins or their parents if they are too young and i gave a specific amount as faith seed for my twins every month.

If the pastor asked the congregation to ask for one thing in a service; i asked for twins.lol. Looking back; i still do not understand my love and passion for twins. Its still a major weakness.lol. I just love the mystery of two peas in a pod.
_____
Significantly among many prayers i said and seeds i sowed was RCCG,Shiloh Hour,November, 2013.

Daddy G.O sat on some chairs and asked that those trusting God for the fruit of the womb should sit on the chairs and pray to God. I did and told my husband. He agreed with me and we said a short prayer.

I took in immediately after we got married in 2014 but i did not know until i was 10weeks gone. I was always dizzy and tired. My husband scolded me for not eating well and said i had low blood sugar.

Doctor Femi of God! Lol. He asked me to go for a test so i would know how low and then decide on what to do. Got there and decided to a preggy test.

October 2014; we welcomed two fresh boys!????
______
I did not take pills or do IVF.God did it! And the same God will do it for every one trusting God for a child or set of twins.
READ ALSO: Gospel Artiste Obiwon Shares Powerful Tips for Successful Marriage on Wedding Anniversary
3. HOW DO YOU STRIKE A BALANCE?

Please, if you know anyone who has mastered their many roles in life and struck a balance; hook me up with them.

My older twin are 3 and the younger ones are 1. You can imagine what it means to have four toddlers! Plus I lead a ministry for women, run a cake shop, am a wife, have mentees, mentors and all.

There are days I just cry! Who send me work?! What have I learnt? To go with my seasons. I find out recently that I was trying to operate outside my season and do things that are not convenient not because they are wrong but the season isn't right.

I am learning to let opportunities and people go. To hold unto God, family and what ever there is room for. Right now, after God; my family is my priority. In due time; i will pick up on the rest.
______
I have also learnt to ask for help. I can not do it alone! So i ask for help or hire the help.
READ ALSO: Marriage: 3 Couples Share Tips to Fight Less & Love More
4. WHAT KEEPS US GOING?

Honestly, it hasn't been love. Don't get it twisted. I love my husband and will scratch out your eyes if you look too closely. Just kidding; maybe not.

What has kept us going is our commitment to God. Let me speak for myself from this point; we have had tough times, my husband has annoyed me and I have also had my weak moments. The Holy Spirit is always there; speaking, directing us and reminding me of God's word.

One of the things the Holy Spirit taught and instructed me to stop doing was allowing negative and angry thoughts in my head when I am upset with my husband.
_____
Thoughts do not like to remain hidden; they will fight to find expression. Right in the middle of a bad fight; I mutter under my breathe (so my husband does hear but now he knows.lol) my faith confessions about my marriage.
______
These negative thoughts are tempting because they provide escape and allow you to do everything you would have done in the present situation. Its all happening in your mind but its a matter of time; your mind will command your body and there will be no resistance.
_____
I had to stop letting the devil peep in anytime i had a disagreement with my husband.
READ ALSO: MUST READ! Dr. Joe Abah Shares Marriage Tips Every Husband Should Know
5. DO WE HAVE DISAGREEMENTS? Baje baje! But we make up easily!

DO WE HAVE DISAGREEMENTS? Like I said in my last post; we do. But its never deep! And it will never be in Jesus name. Its not something that keeps me up at night or make feel insecure in my marriage and I am quick to say sorry;@femi_adisa shebi? Lol
_______
But my husband taught me something I believe every home should practice. Never break your daily rituals just because of a fight!

Some of our rituals include Praying together, A kiss on the cheek before you leave the other person at home, hubby must eat my food, keep the other person updated on your movement, cuddle at night if you want to and we even gist during our fake fights sometimes.lol. My husband especially.lol.
______
This was very strange to me intialy! Because you know how we girls fight now. Stay on your lane and mind your business kinda!

The rituals kills the pain and the hurt fast and does not allow it to fester. It keeps you in touch with each other and physical touch is key! How can you stay angry at someone who is holding you in his arms or someone who kissed you on your cheek and the smell of his cologne tingles your senses?! Let me just stop there!

Any love can go bad! Love is like Fire; it must be sustained else it dies.
______
Dear Married Woman, you are not equal to your husband. I agree that a man and woman are equal but in marriage; the equation is different. The man is the head; let him be the head. Stay humble and submit. Let him know you respect him and value his hustle.
_______
Dear Single Lady;

Marriage isn't for babies but a good marriage is possible. It starts with a sincere and humble relationship with God and a good man. Single ladies; make sure he fears and loves God. If he doesn't; just run.
With these few points of mine; I hope I have been able to bless you.
_____
God bless you.
Photo credit: Instagram