Kim Kardashian and Kanye West Name Their Third Child… Can You Guess What It Is?
Kanye West and Kim Kardashian who welcomed their third child on Monday via a gestational surrogate have been known to give their children unusual names after naming their first daughter, North and son, Saint.
Kim revealed via Kim's pay-per-view app that her second daughter has been named Chicago West. The star mum also explained in another tweet that they'll be calling her 'Chi'.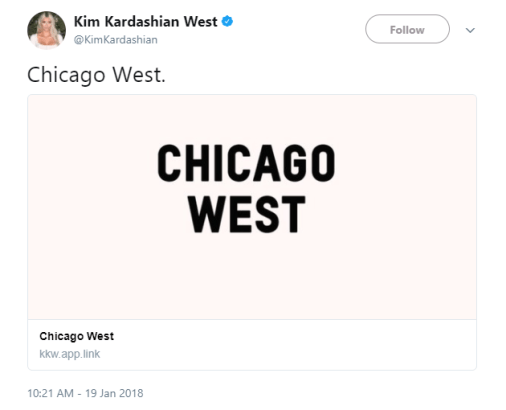 READ ALSO: Mom-of-3 Kim Kardashian Opens up: "The truth about my surrogate pregnancy decision"
Kim's pregnant sister Khloe is a big fan of the name, writing on Twitter:
"I LOOOOOOOOOOVE her name ???????????????? hey Chi (shy)."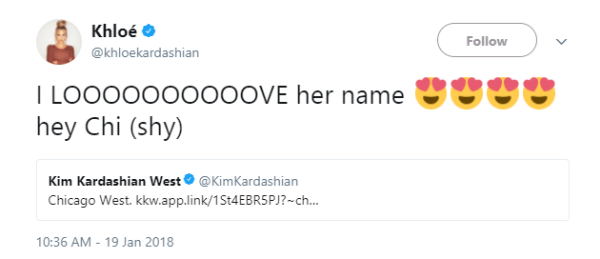 However some fans are not 'fans' of the name, as they think the name is funny.
Some tweeted; "I refuse to believe that you named your baby girl Chicago…
"Are u for real??????????????????

"why would you do that to your baby girl."
READ ALSO: Who Does That? Kim and Kanye West Reportedly Turn Down Up to $5 million Deals for First Photos of Their Newborn
The mother-of-three retweeted a post which explains how to pronounce the shortened version of Chicago's name, Chi.
"And to everyone who thinks it's literally pronounced as CHI. No. It's "Shy"And to everyone who thinks it's literally pronounced as CHI. No. It's 'Shy'.
The superstar couple, welcomed baby Chi into the world through a surrogate after Kim was warned it was too dangerous to go through with a natural pregnancy.
The baby was born on January 15 and Kim said their two children North, four, and Saint, two, were already madly in love with their little sister.
Kim announced the news in a sweet post on her website which simply read:
"She's here! We're so in love. Kanye and I are happy to announce the arrival of our healthy, beautiful baby girl.

"We are incredibly grateful to our surrogate who made our dreams come true with the greatest gift one could give and to our wonderful doctors and nurses for their special care.

"North and Saint are especially thrilled to welcome their baby sister."
READ ALSO: WATCH: Kim Kardashian Reveals Why She Didn't Invite Surrogate to Baby Shower
Speaking to her pregnant sister Khloe during an episode of KUWTK, Kim explained:
"It's really nerve-wracking because there's only a 60 percent chance it [the embryo] will take…

"I mean, I tried one and I lost it. So it's just a chance."