Actor, Funky Mallam, Gives Marriage Another Shot | See Photos of Electrifying Ceremony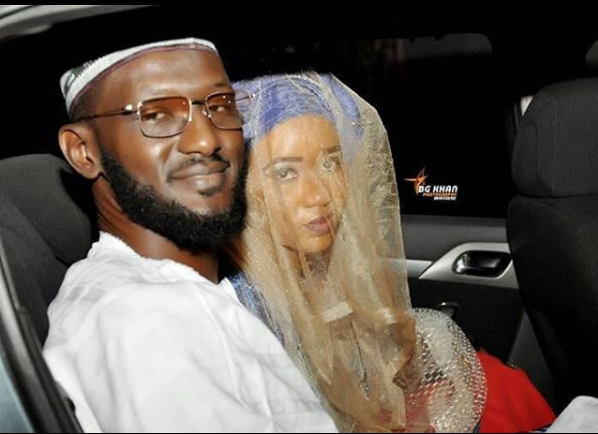 Nigerian actor/comedian, Saeed Muhammad known as Funky Mallam whose first marriage crashed after his ex-wife decided to leave him has taken another shot at the institution.
In 2015, the funny Hausa man revealed his first marriage which produced a son, crashed after his ex-wife decided she was leaving him.
He also revealed despite all his pleas, she refused to stay and they weren't compatible. Luckily, for the tall dark skin actor, he has found love again.
He shared photos from the electrifying and colourful wedding ceremony some hours ago, with the caption;
"No word will or can express my gratitude to you all that made my wedding electrifying and colourful . In fact, let me just say a big THANK YOU and shot up ????????????."
https://www.instagram.com/p/BeqvswSHT4h/?hl=en&taken-by=realfunkymallam
READ ALSO: Film maker, Femi Adisa and Wife Share "Must Read" Marital Tips as They Celebrate 4th Wedding Anniversary
On his first marriage hitting the rock, Saeed said in an interview in 2015;
"You and I know that women are very delicate in nature. It is not safe to combine too many business engagements with a woman by your side because she could go gaga if her patience gets exhausted. What I am saying is that, at this stage of my career, I need a lot of concentration.

So, don't blame me if I choose to take my time because no man would wish to end up in the hands of a cantankerous wife. It would be a huge distraction to live with a woman that would feel insecure about your movement whenever you are out. That does not help in any business or relationship as the case may be.

I would say that it was a case of incompatibility. It is a big risk for two incompatible people to get married because it is usually a matter of time before such marriage dissipates.

However, I have to say it was neither her fault nor mine that the marriage did not work. But the good thing is that we separated peacefully.

We have a son together. He is doing so fine. His name is Ayaz and he is staying with his mother."
READ ALSO: Third Time Lucky! Actor Akin Lewis Talks About Finding Love Again After 2 Divorces
As a committed Muslim, are you considering marrying more than one wife?

"You have to understand that marrying many wives has its conditions in Islam. That you are allowed to marry more than one is not an excuse for you to marry more wives than you can cater for.

It is not about being able to pay the bills but it also involves being able to withstand the crises or challenges involved."
In another interview in 2016, he spoke about his divorce;
"Yea, it's true and it's just a problem of incompatibility. She's from Adamawa State and we were both married for three years but all of a sudden she changed.

The thing is, it's not every woman that wants to live with you when money is not coming in as expected. I found out that we didn't have anything in common because if we could not agree on situations then that means we are not compatible.

I believe no matter the condition you find yourself as long as you people are married you should adjust, believing that tomorrow will be better. She actually asked for a divorce and I told her I would not take her back if she leaves but she left.
READ ALSO: Love Story of Couple Who Met For the First Time On the Day of their Official Wedding Introduction
I don't have anything against her, what I try to make people understand is that I don't have any problem with her. I never asked her to leave my house, it was she who decided that she's sick and tired, that she could not stay again, that she is not getting what she wanted.

I pleaded with her and called her people but her mind was made. Nothing was working and we kept having problems everyday in the house. I started running temperature and sometimes I just didn't feel like coming home, it got to a stage I wasn't concentrating on my job anymore.

At the end of the day I just said okay she wants to go fine but I told her that look when you go you are not coming back because I don't see the reason why you are going, I've never offended you then when things get better tomorrow and then you say you are coming back it won't work. Right now, we still talk like normal friends."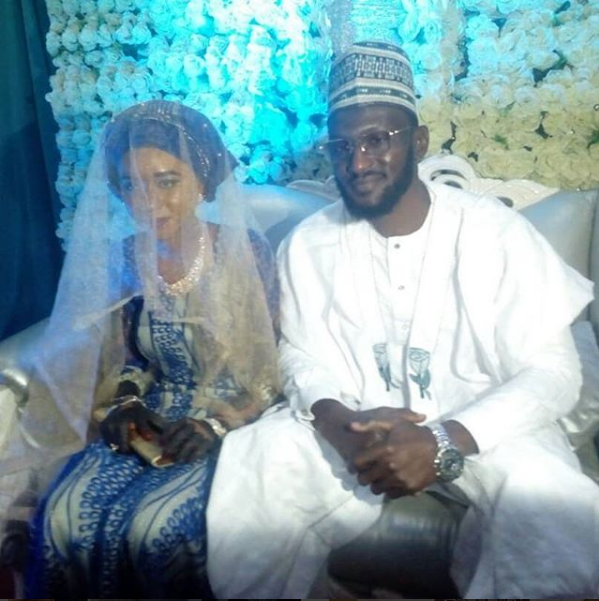 On how he met his new wife,
"Well, we met in Abuja and funny enough, they bear the same name 'Aisha'. I went to Abuja to MC an event and she happened to be one of the bride's friends. Initially, she wouldn't talk to me, she snubbed me but when her brother called her attention that I'm his friend, she started listening to me.

I noticed that she's the shy kind of person. When I left and then came back to Lagos, for sometime we lost contact but got reconnected some months later. So, we started talking again and in the process of our discussion I kind of got lucky and she accepted.

I think I was very lucky because at the time, she and a son of  late Adamawa Emir were planning to get married before I came on the scene.

I don't know what happened between them but for sometime they were not communicating but when I came into the picture he immediately came back again but she told him that she's already been taken by someone else and lucky for me I became the winner."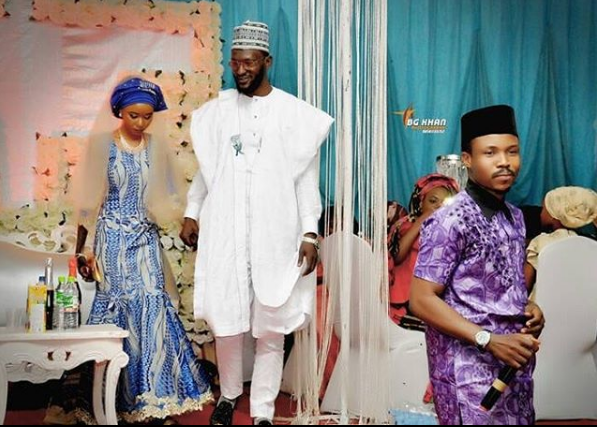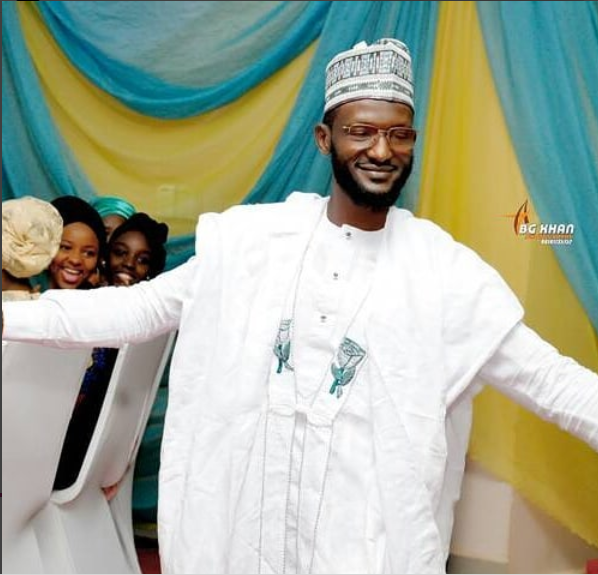 The newly wed is a graduate of Mass Communication from Bayero University, Kano.
The Multi-talented rib cracker has carved a niche for himself. He has featured in a lot of movies but he is more popular as the TV series Mallam.
Photo credit: BG Khan/Instagram