What In-laws Told Widow Minutes After Her Husband Died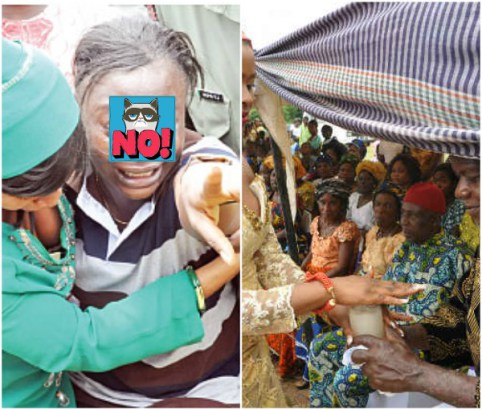 A Nigerian woman identified as @nerdy_dami took to her Twitter handle to reveal what the in-laws of her recently widowed friend did to her immediately after her husband died in the hospital.
The concerned friend revealed that the in-laws had not been supportive since the deceased was hospitalised.
According to @nerdy_dami, her friend's in-laws, who are Igbos, told her that they are thankful to God because she didn't have a child for her husband, their relative son. This was just after they asked if there was any property her husband owned that they didn't know about.
She further revealed that the mother of the deceased said if she knew her son would die, they wouldn't have traveled all the way from the village.
READ ALSO: Tradition or Wickedness? Widow Forced to Drink Water Used in Washing Husband's Corpse Cries Out
Her tweet read;
"A friend just lost her husband, her in-laws weren't really supportive when he was in the hospital battling for his life but they turned up 2 days before his demise. Some ugly shit they said, I'll share here. Thread!

Right there at the hospital, minutes after the man gave up, his older cousin asked the wife (my friend) if there was any property he owned that they didn't know of. Like wtf, isn't it too damn early and insensitive to ask that already?

Like that wasn't enough, the deceased younger brother told her "thank God you didn't have any children for him, it's better sef" better how, does he want to take over? I still don't understand the statement, I don't ever!
READ ALSO: Horror As 62-Year-Old Widow & Children Are Brutally Attacked In Ikorodu
The worst of it all was when they got back to the house and the mum said if they knew he was going to die, they wouldn't have travelled all the way down from the village. Do I need to tell you the guy is Ibo?

I just hope they don't force her to go back to the village with them to mourn or something.

Person just lose her husband, Like the trauma and psychological drain isn't enough, I don't understand why they subject the widows to shave their hair, stay in the same room with their dead husband, drink the water used in bathing the dead body. Which kain thing be that ffs.
READ ALSO: Nigerian Singer Duncan Mighty Reveals One Of His Success Secrets Is 'Remembering The Widows'
I still don't get the aim of doing all that tho, it's to what end? I just hope this "tradition" is revisited soon, things need to change.

I forgot to add, they wanted to carry the man's car too. Awon family oshi."