Why Your Side Chick Looks Hotter Than Your Wife – Reno Omokri Reaches Out to Married Men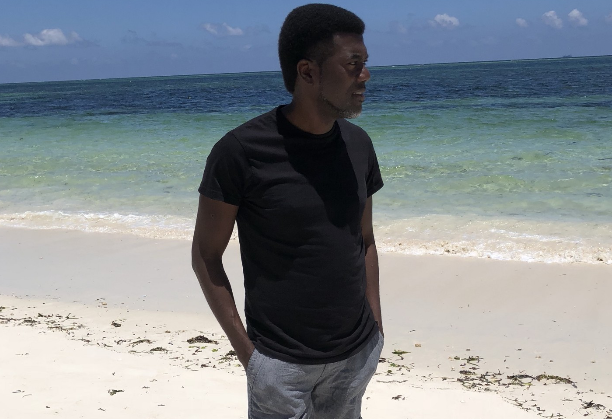 Reno Omokri, a former presidential aide to Goodluck Jonathan, has reached out to married men via his Twitter page to dish out some words of advice.
In his nuggets, Omokri advised married men on how to keep valuing their wives and keep their marriage. Omokri, who is also an author, also talked to married men who value their side chicks more than their wives.
According to Omokri, who is equally married with three children, married men think their side chicks are more beautiful because they don't see them too often and even when they do see they, they are usually heavily made up.
READ ALSO: "Dads, spend time with your children, it builds their sense of self worth." Proud Family Man, Reno Omokri Advises
He advised the men not to leave their wives because of a hot side chick because her hotness is just like a mirage. He writes…
"Dear men, side chicks look hotter than wives because you don't live with them. You only see them when they've perfected their makeup. Don't leave a wife because of a hot side chick.

Her hotness is a mirage that will disappear once you start living with her. Don't let your emotions deceive you that you have fallen in love. Falling in love is not as deep as standing in love.

A person who falls in love can fall out of love. But when you stand in love, it means you stand up for your partner for better or worse. Falling in love is emotional. Standing in love is a choice of commitment #RenosNuggets."
READ ALSO: "Sex is not Value. A Wife material Must be a Lady who adds Value to Your life" – Reno Omokri
Below is what he wrote: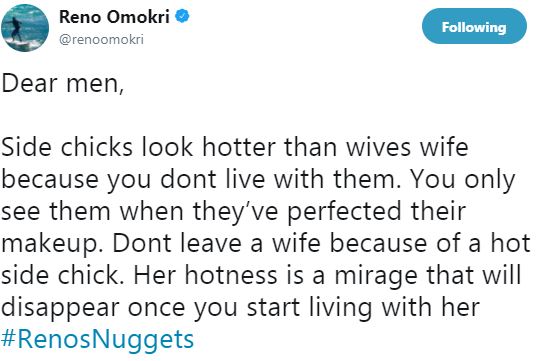 Photo credit: Twitter