Woman's Story Changes After Losing a Pregnancy at 22 Weeks, 2 Blocked Fallopian Tubes, Incompetent Cervix & Failed IVFs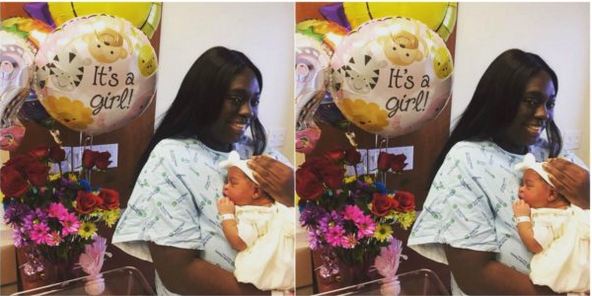 https://www.instagram.com/p/Bf4Yrg3Hloc/?hl=en&taken-by=bimzhair
A Nigerian woman, Bimpe has shared her touching story, narrating how God has given her a new story. According to the new mom, she lost her pregnancy after 22 weeks, had a failed IVF coupled with multiple fibroid…but at the end of the day, after seven years of several attempts, her story changed.
Read her story below;
"It feels surreal, I'm a Mum!!! ???????. God indeed makes all things beautiful in his time after SEVEN (7)years of waiting and trusting God for my awesome blessing. Doctors diagnosed all sorts but my God had the final say.

From two blocked Fallopian tubes, hormonal imbalance, several painful procedures, incompetent cervix, failed IVF and multiple fibroids. Losing a pregnancy at 22 weeks+ in 2016 my water broke and had to be induced to bring out the baby in order to save my life.
READ ALSO: 'Doctors said my chances of having kids was zero' – Swiss Blogger Married to Nigerian Man Tells Her Testimony
It was such a painful experience as I had to go through the pains of proper labour. And then going through a major procedure last year to remove the multiple fibroid.

In all God kept me and I knew HE sure has a purpose for my life. He blessed me with the best man one could ever ask for. Who stood by me all through. My pains were his pains and he never for once gave up on God.

Fast forward June 2017, I decided to give IVF another try hoping that God will come through. I was a bit reluctant because of the fear of being disappointed yet again. But went through it anyways.
READ ALSO: "God please take away this wealth and give me children" – This Man's Testimony will Encourage You
To the glory of God I was confirmed pregnant July 2017. The pregnancy went so smoothly and February 26, 2018 our wonderful gift beautifully moulded from heaven came to the world.
The Lord will never leave or forsake HIs own. Though it may tarry it will definitely come to pass. I truly appreciate my family and friends who prayed for me during the waiting period.

Love you all so much ????God bless you and grant you all of your heart's desires . #mymiraclebaby#God's blessing #ChildofDestiny#triumphantseed #joybeyondwords."
READ ALSO: After 17 Years of Marriage & Failed IVFs Nigerian Woman Shares Her Testimony
Don't ever give up, your own miracle is on its way!
Photo credit: Instagram