Usher Raymond and Wife, Grace Miguel, End Their 2 Year Marriage
Usher Raymond and his wife Grace Miguel have revealed that they have 'decided to separate' after two years in marriage and nearly 10 years together, Us Weekly exclusively reveals.
Usher, 39, and Grace, 48, announced via a joint statement;
"After much thought and consideration we have mutually decided to separate as a couple. We remain deeply connected, loving friends who will continue supporting each other through the next phases of our lives.

The enormous amount of love and respect that we have for each other will only increase as we move forward."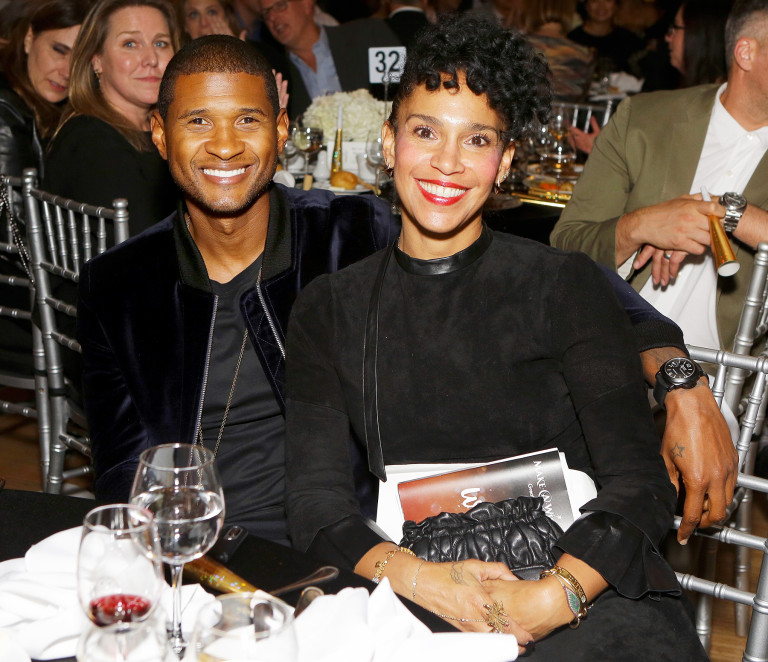 The two married in September 2015 but it is thought the former couple have been quietly living apart for several months.
READ ALSO: Usher Raymond says, "Getting Married at 28" was his best mistake
Usher and Grace began dating in 2009 after Usher split from his first wife, Tameka Foster, with whom he shares 10-year-old son Usher Raymond V and 9-year-old son Naviyd Ely.
He recently spoke of how good his relationship with them is.
"I went on an air balloon trip with about 15 people … both my boys were up there with me, my wife was up there with me. The whole family was up there. It was cool to just have that little moment away."
It is not known if Grace would continue as his manager, a position she has held for years.
The split comes months after the singer was hit by a $20 million lawsuit in August last year from two women and a man who claimed he had put them at risk of the sexually-transmitted disease, herpes.
READ ALSO: How Usher Raymond Allegedly Infected Women With Genital Herpes | Women + Babies Mostly at Risk
The U Make Me Wanna hitmaker responded via his lawyers claiming he didn't have sexual contact with them nor did he give them the disease.
When the news broke out, Grace reacted to the herpes accusation back in November, stating that she and her husband are "living their lives."
Describing Grace, Usher once said,
"I have an incredible partner and manager. She has helped me through some of the hardest times in my life and my career".
Reports have it that they were still together as of December, but they've been keeping a low profile since then.
According to another report, no divorce documents have been filed yet.
Photo credit: Tiffany Rose/Getty Images