Postpartum Depression Is Real! How a Depressed Mom Threw Off Her Baby From a 118ft Bridge (Photos)
Most women grow up dreaming of becoming a mother, but what they don't expect is the devastating postpartum depression they might suffer after child birth. Expecting moms have even confirmed that they experienced Prepartum depression.
Miraculously, seven-month-old baby Thayller has survived being thrown off a 118ft bridge by her depressed mother.
Carla Regina Mendes, 23, from north-east Brazil, threw her own baby over the railings on José Sarney Bridge, in Sao Luis, Brazil in front of shocked passersby.
Dailymail reports that the tot had already sunk deep into the swampy river when two quick-thinking off-duty police officers got to her, just in time before she disappeared underneath the surface.
Sources claim that the innocent child suffered a blow to her head and bruising to her back after landing in a stagnant stretch on the Sao Francisco river.
READ ALSO: Post Partum Depression? Disturbing Footage of Knife Wielding Mom Will Make You Sad
Ms Mendes, who was arrested at the scene, later told the police to be suffering from mental health problems and depression.
She has been sent for psychiatric tests and could face charges of attempted murder depending on the outcome of the evaluations.
Officers Danilo Pestana and Herberth Ribeiro were returning together from football training around 2 pm on a motorbike when they noticed a commotion involving a woman on the bridge.
READ ALSO: John Legend Reveals How His Wife's Post Partum Depression Affected Him
Eyewiitnesses shouted that the young mum had just thrown her child over the edge and into the river below. The officers immediately plunged into the mud, which reached up their waist, to rescue the little girl who had lost most of her clothes and was only wearing a nappy.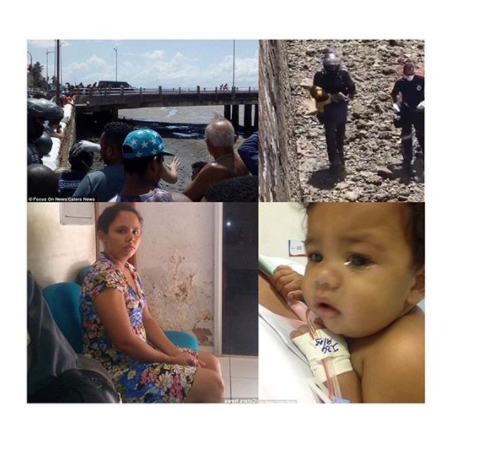 Narrating the experience, officer Pestana said to local media:
"It was difficult to locate the baby, we could only see her head sticking out of the sludge. We could see she was being suffocated and that mud was in her mouth.

The mud hampered our movements. It slowed us down and it was hard to get through. But as we got closer to the child, she saw us and started to cry and tried to get herself out.

Her desperate cries were heartbreaking and we pushed hard to reach her before she sunk beneath the mud. When we got to her and pulled her out she cried loudly in our arms and that was the best sound we could hear as it made us so happy that she was alive.

Thank God, we managed to get there in time because she would have certainly choked to death," a relieved Officer Pestana said.
READ ALSO: "You're not a bad mom" -Distressed Widower Writes Moving Note to Other Moms Battling PPD 
Many women suffer in silence. Their friends, relatives and health professionals don't know how they're feeling.
Postnatal/Postpartum depression usually occurs two to eight weeks after the birth, though sometimes it can happen up to a year after the baby is born.
Symptoms such as tiredness, irritability or poor appetite are normal if you've just had a baby. But these are usually mild and don't stop you leading a normal life.
When you have postnatal depression, you may feel increasingly depressed and despondent. Looking after yourself or your baby may become too much.
Emotional signs of postnatal depression may include:
READ ALSO: 9 Common Postpartum Issues & What to Do
loss of interest in the baby
feelings of hopelessness
not being able to stop crying
feelings of not being able to cope
not being able to enjoy anything
memory loss or being unable to concentrate
excessive anxiety about the baby
Other signs of postnatal depression may also include:
panic attacks
sleeplessness
extreme tiredness
aches and pains
feeling generally unwell
anxiety
loss of appetite
Getting Help 
If you think you have postnatal depression, don't struggle alone. It's not a sign that you're a bad mother or are unable to cope.
Postnatal depression is an illness and you need to get help, just as you would if you had the flu or a broken leg. Talk to someone you trust, such as your partner or a friend and most definitely, your doctor.
Source: NHS
Photo credit: Caters News