Why You Shouldn't Hide Properties You Own From Your Spouse: Eucharia Anunobi To Married Couples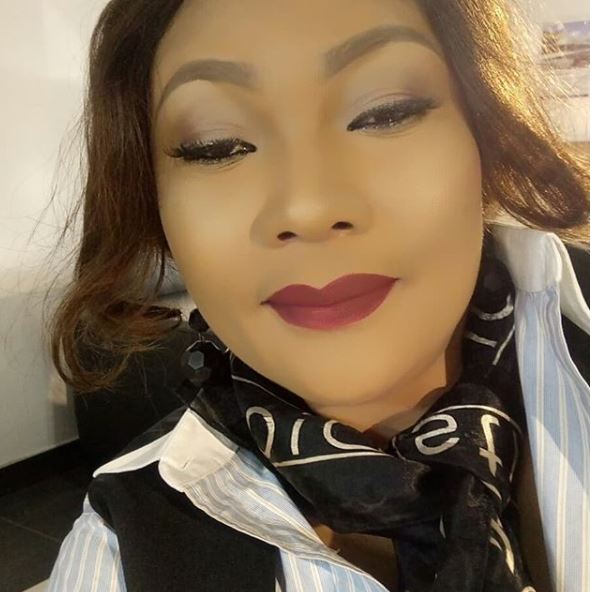 In a post she shared on her Instagram page this morning, Nollywood actress turned Evangelist, Eucharia Anunobi, berated husbands and wives who keep their properties away from their spouses for reasons best known to them.
According to Anunobi, the rule is two becomes one in marriage. She further stated that if one drops dead while hiding his or her property, strangers cum government might inherit the properties, or wicked lawyers might even divert some.
Here's what she wrote;
"You're married. The rule is two becomes one . As a husband or wife , you have investments , houses built in different places, you have money stashed in various banks.

This your wife / husband doesn't know of the existence of all the above . You're happy right ? Gleefully you say to yourself: am so smart! Now, consider this: if you were to drop dead right now, or so ill that you can't talk, who gets to inherit and take care of these things?

Banks get enriched. Strangers cum government inherit your properties. Wicked personal lawyers divert your assets because you gave them instructions : Don't let my wife / husband know that I have these things.

Now, who's the fool? Truly the wisdom of this world is foolishness with God. For it is written, He taketh the wise in their own craftiness- 1 corinthians 3 :18 – 2. Proverbs 13 : 22. Is it not time, you realise that who you really have is your spouse?

Beloved ones, have an amazing week. Peace always in JESUS name."
READ ALSO: After the Death of Only Son, 53-Year-Old Eucharia Anunobi's Note to Find Love Again Inspires Hope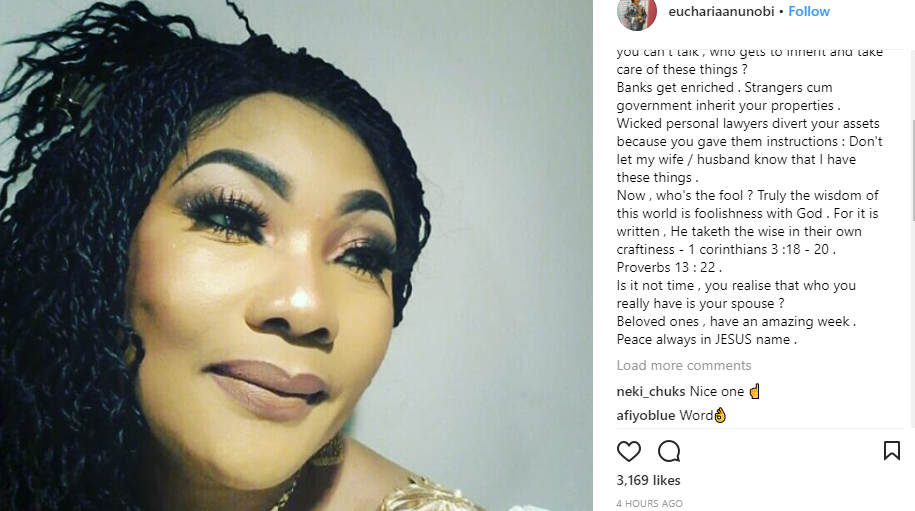 This is coming after Eucharia Anunobi, who lost her only child, Raymond Ekwu, to sickle cell anaemia last year, advised couples on need to take actions, instead of complaining about the things going on in their relationship.
READ ALSO: "If I could finish my exams while burying my son, you can"- Eucharia Anunobi Inspires as She Graduates from School
She wrote:
Hear this: most often we are struggling in life because we have failed to see ( spiritually blinded ) realise that our allocation may not be where we are located.

If you have been working and there is nothing tangible to show for it , why are you still there ?
You're in a relationship for three months and you can't tell whether , it's leading to marriage , what are you waiting for ?

You're in a church and you can't comfortably say , you're growing to know Jesus better , why are still there marking time ?

You're married and you feel your wife / husband isn't romantic, instead of complaining, call your spouse and talk things over. Teach each other what and how you like it. Instead of getting involved in illicit relationship.
READ ALSO: 'How my wealthy father refused to sponsor my studies because I was a female child' – Eucharia Anunobi Reveals
So you don't have a child or children yet after years of getting married, is there anything stopping you from adopting? Are you carrying the children to heaven? God is not interested in how many biological children you have but in how many souls you made their lives better and told about Jesus Christ.

Hosea 4 : 6a : says my people are destroyed for lack of knowledge . . . . I prophesy, you shall not miss your allocation. May the Lord uproot and place you where you should be. May your story turn around this month and may you be a show piece of God's glory .

By the way, what is keeping you from giving your life to Jesus Christ? Beloved ones, now is that time.
Lots of love and peace always in Jesus name."