How Woman Found Out Her Husband Is the Brain Behind Her Recurrent Miscarriages
Fatima DMG, a Nigerian doctor took to the Facebook platform to narrate a disheartening story as recounted by a woman who was shocked to discover that her dear husband has been the brain behind her recurrent miscarriages.
According to the aggrieved unidentified woman who had only 2 successful deliveries out of 8 pregnancies, she was drinking a tea her husband made for her when she noticed some particles at the bottom of the tea cup.
She became suspicious and started monitoring her food, when she found out that her husband had been lacing her tea with a drug called Misoprostol to abort her pregnancies.
She later found the drug hidden in a drawer in his room. She confronted him but he denied it. Upon finding out about his wicked act, he changed his tactics and was inserting the drug into his wife's vagina to terminate her pregnancies.
READ ALSO: How a Nigerian Mom Discovered Her Husband Caused Her Multiple Miscarriages For Many Years
Below is Fatima's narration of the woman's story…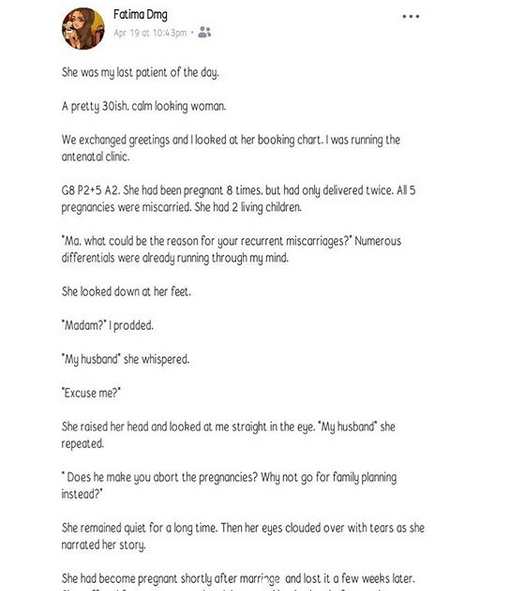 READ ALSO: 7 Signs Of A Possible Miscarriage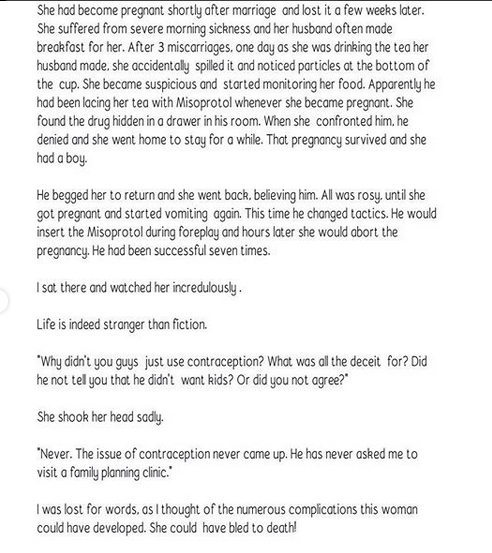 Other Causes of Miscarriage
According to webmd, most miscarriages happen when the unborn baby has fatal genetic problems. Usually, these problems are unrelated to the mother. Other causes of miscarriage include:
Infection
Medical conditions in the mother, such as diabetes or thyroid disease
Hormone problems
Immune system responses
Physical problems in the mother
Uterine abnormalities
A woman has a higher risk of miscarriage if she:
Is over age 35
Has certain diseases, such as diabetes or thyroid problems
Has had three or more miscarriages