Jada Pinkett Opens up to Will Smith's Ex Wife About Dating Him While They're Still Married
Jada Pinkett Smith has debuted a new show on Facebook – Red Table Talk – and she didn't hold back from getting very personal in the premiere episode by bringing on Will Smith's ex-wife, Sheree Fletcher as her first guest.
The actress and mother of two teenagers sat down with Sheree Fletcher to have an intimate and open conversation about the difficult times they faced trying to become a blended family.
Pinkett Smith, 46, started dating Will Smith while he was still married to Fletcher, with whom he shared a 3-year-old son, Trey, at the time.
During the premiere Jada who met Will Smith, 49, in 1994, expressed regret over dating him in 1995 when he was still married to Sheree, 50.
A tearful Pinkett said:
"Because I did not understand marriage. I didn't understand divorce. I will say that I probably should've fell back."
READ ALSO: Hmm! Jada Pinkett Smith Spills on her Dark Past and It's Dirty
At that, Fletcher snapped: "You think?"
Jada then goes on to explain how it took time for her to realize that she was behaving "insensitively" and "inconsiderately" as Sheree and Will's marriage was "unwinding" and she [Jada] was just "trying to get in there."
Sheree recalled when she was trying to call her son with Will and Jada picked up, but she (Sheree) didn't like Jada's tone and she hung up.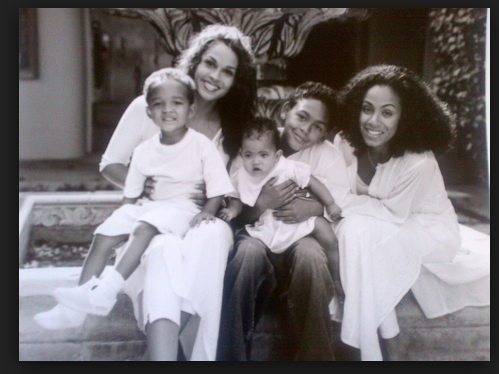 "I called back and happened to say, 'bitch, you living in the house I picked out!' And you said, 'It's my house now'," Sheree said.
Both women laughed at this, then Jada revealed that Will really scolded her when he heard about the fight. Jada said;
"His take was, 'That is Trey's mother and that's just not your place'."
Sheree also recalled how her son with Will Smith, Trey, who is now 25, reacted to meeting Jada for the first time.
READ ALSO: 'It's not my responsibility to make my wife happy" – Will Smith Once Again Shares Nuggets on Marriage
"So Trey comes home and I said, 'How did you like Miss Jada?' He said, 'I really liked her, Mommy'," Sheree recounts.
When Pinkett Smith whispers, "Oh my God" in response and starts to cry, Fletcher reaches out and begins to tear up before saying, "Thank you for loving my baby…I'll tell you, on this side of things, my son could not have a better bonus mom."
In another part of the interview, Sheree told Jada,
"You took the initiative to make things right. The one thing I will say about you is you always say, 'Ree, I apologize.' You always owned it. And thank you for that."
The actress previously opened up about the decision to have Fletcher appear on the first episode of the show, which also serves as the Mother's Day episode.
"I thought it was important to have that conversation because she was my entry point to motherhood. I was co-mothering with her.

At that particular time, before [having a blended family] was popular, before it was even an idea, we were trying to create something that we had never experienced."
READ ALSO: Couple Goal: Will Smith Shares What he's Learnt as he Celebrates 20th Marital Bliss With Wife Jada Pinkett
She added,
"We came from broken homes. We didn't have a blueprint. We just had an idea. This is what we think we want. This is what we want to try to do for Trey."
READ ALSO: 'I've done a lot of marriage counselling' Actor, Will Smith, Reveals Therapy Saved His Marriage
The Girls Trip actress and Smith have since been married for 20 years now and they have two children; son Jaden, 19; and daughter Willow, 17. He was married to Sheree for 3 years; between 1992 to 1995.
Watch the full interview below…
https://www.facebook.com/redtabletalk/videos/560356131030533/