Is Wizkid a Habitual Deadbeat Dad? 2nd BabyBaby Calls Him Out After Ist Baby Mama's Cryptic Post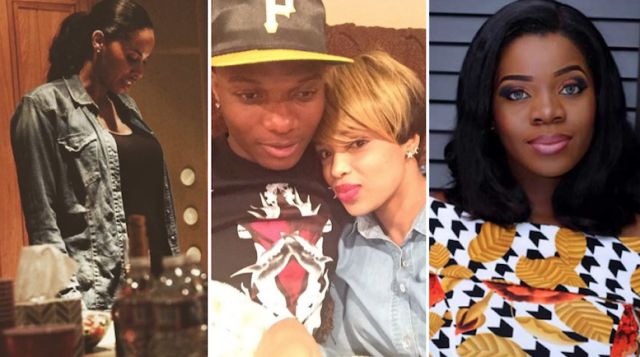 It's a Wizkid vs. his baby mamas drama week, guys! The award winning pop star who was first shaded by his first baby mama, Shola Ogudu, earlier this week for being a deadbat dad is being called out by his second baby mama, Binta Diallo.
In a cryptic message on SM, Shola insinuated that Wizkid hasn't been a dad to their son, Boluwatife, who recently turned 7.
"Being a Mom and a Dad and Still Manage to Slay all at once on a Legit Income!!! Please I need my accolades served chilled!!!! It's very well deserved!!!," she wrote.

Thank you lord.. I'll never get tired of thanking you God.. Cos I am where and who I am because of you my Miracle Worker!!! I have alottt to say.. I feel the need to call someone out soo baddd..

Like just blast our full REAL history for the public. Let the world know the Real Truth not the liesss this person has made the world believe

But God keeps patting me on the back saying I gotchu baby… It's a been a great day today.. Let's leave it at that and keep it classy as always. #Everyday4theThief1dayForTheOwner #OnedayBushmeatGoCatchTheHunter

He Who Fights and Runaway Lives to Fight Another day FULLY ARMED!!! ..You've been strong for so long don't let nobody change that. So because of the fear of God In me I'll save this person face.

And Leave this person to Karma to do what it does best…," she added.
Then yesterday, Binta posted cryptic posts about being there for 'your kids' and when a Wizkid social media fan page handler barged in with claims that the singer pays child support, Binta hit back by stating she has been taking care of the baby all alone now for 2 years.
Binta Diallo, who said the Starboy has neglected his role as a father to their 2-year-old son, also claimed that she's only received $13k in 2 years from her baby daddy.
READ ALSO: Wizkid's First Baby Mama Reveals How She Copes With the Knowledge of Him Having More Baby Mamas
Read the exchange below…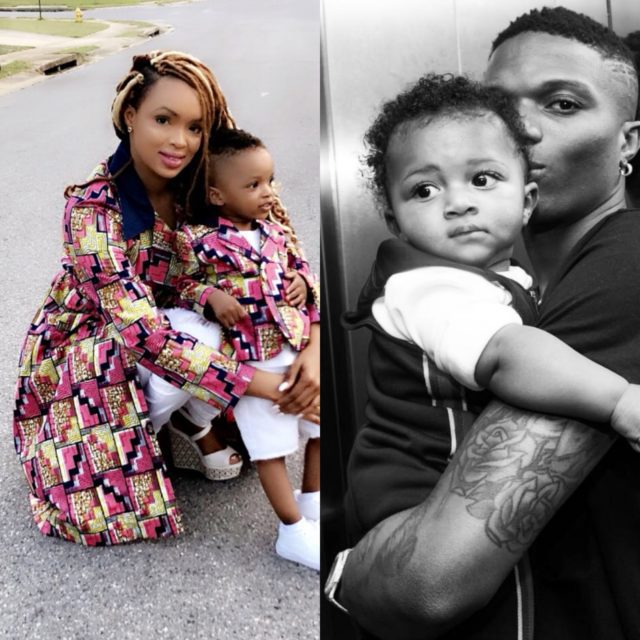 READ ALSO: "I am a mother, not a baby mama" Mother Of Wizkid's 2nd Son, Binta, Tells The Difference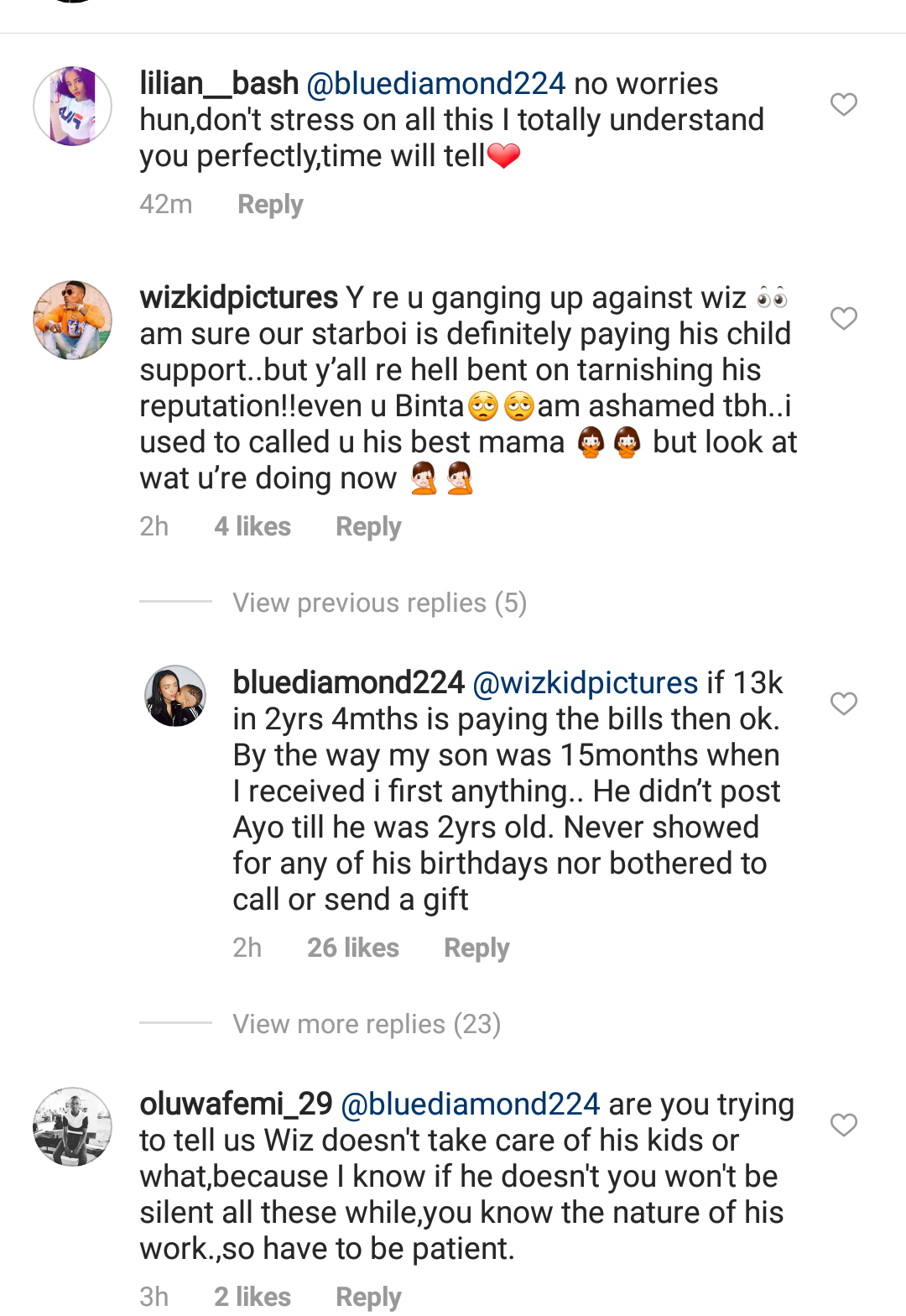 Wizkid immediately reacted to these allegations, where he simply said there are always two sides to a story. Perhaps, we should be expecting to hear his own half of the tale soon as he reportedly frolicks with singer, Tiwa Savage.

Not backing down, Binta also responded to allegations by folks on social media who claimed her son was as a result of a one-night stand.
Many are assuming Wizkid and Binta just had a one night stand, which apparently, led to her being pregnant, and giving birth.
READ ALSO: Why "Monogamy is not my thing" — Single Father of 3, Wizkid Reveals
You should recall about 2 years ago after Binta gave birth and revealed Wizkid as the father of the baby, the singer didn't acknowledge, he denied being the father (read here).
Fast forward to months later, he acknowledged he was the Father of Binta's son, Ayo. Reacting to trolls, she posted images of herself and Wizkid when "they were together."
She shared the images, captioning them:
READ ALSO: DRAMA: Wizkid's 2nd Baby Mama, Binta Throws Shade at Him After He Acknowledges Third Son
"When we first met we hung out and clicked. He told me he really liked me and I fell for it cause my feelings for him were genuine. I#summer2014 #nyc.

You people calling me delusional? And that I forced my self into him so why he kept on coming back. He even posted us in his page after he came to see me in my city #atlnights #notaonenightstand."
However, Wizkid is getting accolades from his third baby mama and manager, Jada Pollock.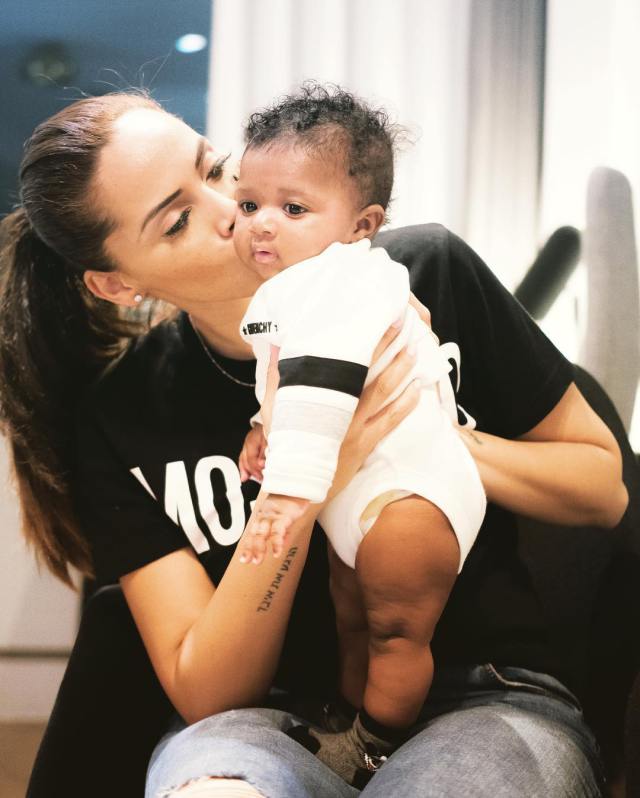 Jada says Wizkid is the best "daddy" any son could dream of.
As Jada disagrees with Shola and Binta's allegations, folks on Social media are of the opinion that Jada is a "wife material", reason she's getting all the attention from the singer.
Posting a loved up picture of her son and baby daddy on her page, she wrote as a caption;
"Thank You' For always being such an incredible Dad!! Ayo ❤"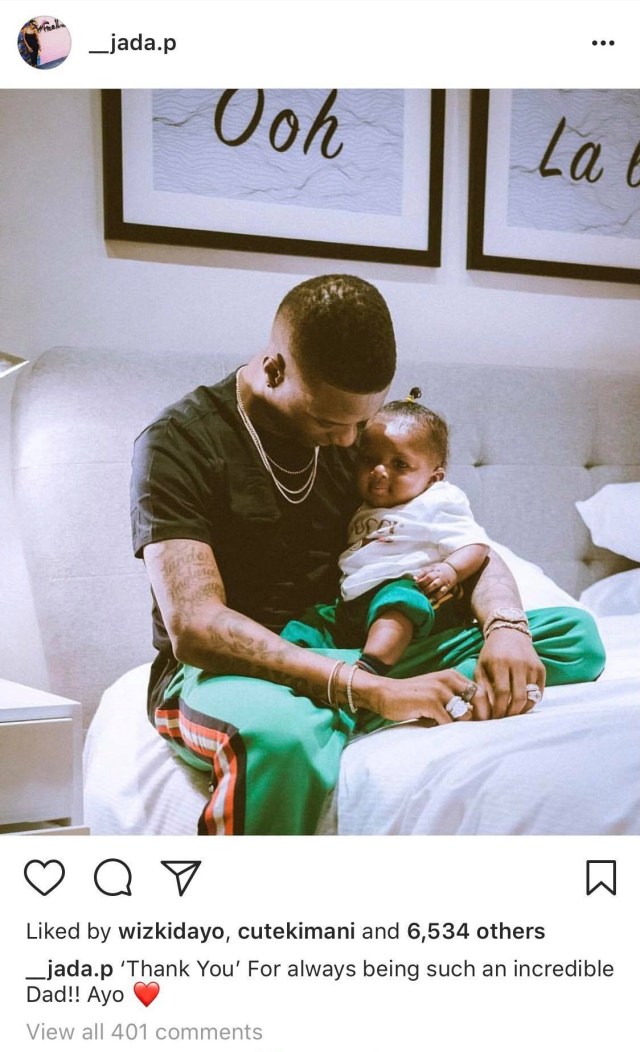 ….And then Binta, reacted to Jada's claims, posting:
"When someone treats your kid like crap, then you'll understand where I'm coming from, till then." "Yeah of course he's a good father to your kid and we all see that #babymamager"