Victoria Beckham on Teaching Her 4 Kids to 'Work Hard' in Life: 'We lead by example'
Singer-fashion designer Victoria Beckham hasn't risen to success by sitting on the sidelines. The former Spice Girl knows to achieve the success you desire you got to roll up your sleeves and put in the work.
Victoria and her hubby, David Beckham are instilling that same work ethic in their four children, Harper, 7, 6 1/2, Cruz David, 13, Romeo James, 15, and Brooklyn Joseph, 19.
The 44-year-old entrepreneur who first rose to fame as a member of the Spice Girls, opened up about her family and teaching her four children the importance of working hard in an interview with the Evening Standard.
According to her, she and David lead by example.
"It's never been an option not to work hard. They see Mummy go to work, they see Daddy go to work, and they go to school and they have to work. But at the same time they're happy children. I believe that children should be children, and have fun."
Victoria does emphasize that even though she holds high standards for her kiddos she also wants them to be kids.
The fashion icon emphasizes that the pressure she and her husband put on their kids is all about balance and comes from a place of love, in wanting them to succeed in life while also enjoying every bit of it.
READ ALSO: Victoria Beckham Reveals Rarely Know Facts about Herself  + Praises Husband in New Interview 
"But at the same time, they're happy children. I believe that children should be children, and have fun. I like to push them because I want them to achieve as much as they can, but I don't want them so much that it makes them overly stressed.

No child wants to do homework. As parents, we've always got to give them a kick up the bum. That's our job. I'm not saying they love doing it, they don't, but it's compulsory."
Victoria and retired soccer star hubby, 43, youngest child, Harper is a natural academic. Speaking about Harper's school life, she proudly added: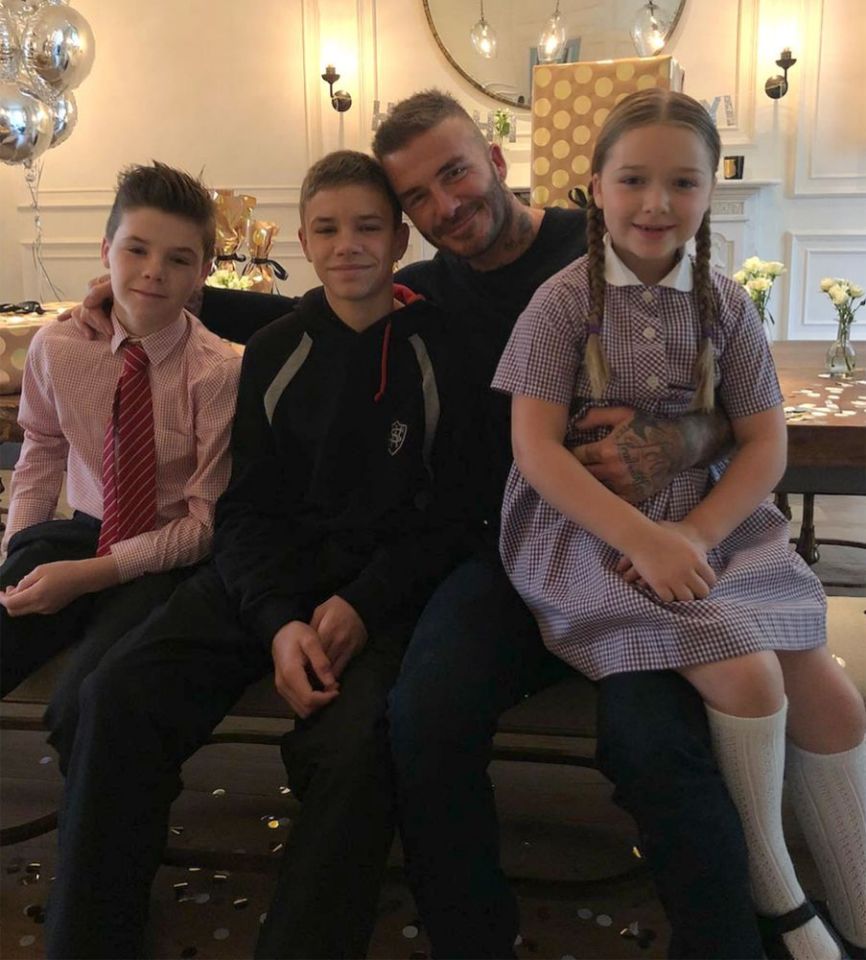 "[Harper] works very hard at school and is very sociable, so has a lot of friends. She has a better social life than I do! She gets up early, does her spelling, does her Kumon. She works hard, but she's a happy little girl.

She'll make me a coffee, and write me these little notes like 'Mummy, I love you with all my heart.'"
READ ALSO: "We are strict with the children" – Victoria Beckham Spills on Marriage & Parenting 
She also previously opened up about Brooklyn's job working in a café, telling Ellen DeGeneres:
"He's worked in the local café cleaning up dishes for the last two years, which I think is great. It's important that the kids have a good work ethic and try to help other people as well."
The mum-of-four regularly shares snaps of her youngsters taking part in various activities, including skiing and snowboarding, horse riding and playing tennis, and Victoria hinted that she would be a "lunatic" without her family keeping her grounded.
"[I'd] probably have been a bit of lunatic [without my family]," she said. "You can't be a diva and you have to keep it real."
Victoria recently looked fabulous while attending the royal wedding with her husband, David, and spoke about the stunning ceremony.
READ ALSO: Victoria Beckham Posts Lovely Message After Son Brooklyn Passes His Exams
"It was such a beautiful, incredible wedding," she said. "It was just the best day. They looked so happy, and everybody was just so happy for them. Meghan seems like a genuinely lovely woman, who really loves him."
Photo credit: Getty Images/ Instagram