Mixed Reactions Amongst Nigerians to the Rising Trend of Men Marrying Older Women
From France's President Emmanuel Macron who is 24 years younger than his wife, Brigitte Macron to the newly wed, Prince Harry, whose wife is older than him with a 3 year gap, men marrying older women is becoming a trend.
The President was quoted saying that those who kept wondering at the age differences between him and his 64-year-old wife were misogynists and homophobes.
In cultural driven environment like Nigeria, this is not the norm, hence making this subject a controversial one even though we can point to a few successful marriages in which the wife is older.
Pictured below is Betty Akeredolu, wife of Ondo State governor, Rotimi Akeredolu. Mrs Akeredolu once revealed in an interview that she's three years older than her husband.
The couple have been together for more than 37 years now and have four grown children together.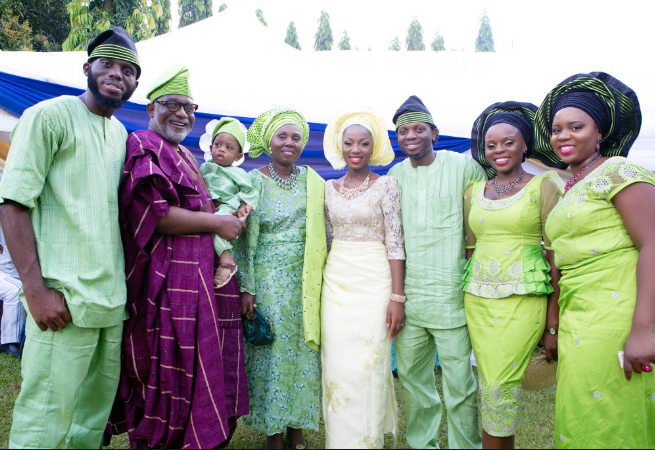 "There is a three-year age difference between us. I am older than him anyway. I was like 25 then while he was 22. It was love that really endured.

I had graduated and in my place when a girl graduates from the university, suitors come from left, right and centre. And your parents would expect you to go for a self-made man with everything," the Imo State-born woman said.
Read the rest of their love story HERE.
Pictured above is Peter Okoye of former P'Square and Lola Omotayo's love story is another perfect example. The couple have been in a relationship for over 12 years before they finally tied the knot, November 17, 2013.
Lola, was said to be in her 30s then and Peter in his 20s, when they both met and fell in love. According to Lola, she's not disturbed by the age difference.
"Like I said, Peter is an old soul and he always tells me that I'm like a 23-year-old. Age is just a number. Right now, you can see it around the world.

Demi Moore, Usher and some known people. Even in Nigeria here, they are dating people far older than their age. So, we shouldn't base it on the age factor. He doesn't make me feel like he's younger than me."
Their scandal-free marriage has produced two wonderful kids, a boy and a girl.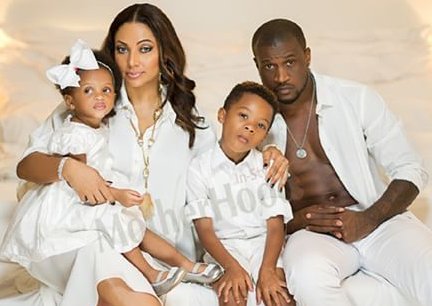 READ ALSO: French First Lady Brigitte Macron Addresses 24-Year Age Difference with Emmanuel Macron
Meanwhile, some Nigerians are obliged to the norm of men marrying older women. They told the News Agency of Nigeria (NAN) in Lagos on Monday that modernity and other factors had redefined their choices of suitable mates.
They also said that emotional maturity was a core virtue needed to sustain a relationship and older women possessed it.
A lawyer, Godfrey Chukukere, disclosed that men sustaining relationships with women younger than them tend to be more difficult since such women were fond of laying emphases on trivial issues.
He added that a man marrying an older woman, on the average, meant marrying an older and mature person.
READ ALSO: Ridiculous Reasons "Men Shouldn't Marry Women Above 30", According to One Social Media User
"Having a relationship with an older woman is simply the best thing that a younger, vibrant and ambitious man should consider.

"An older women will give every support a young man needs in every regard, especially, emotional stability," he said.
Also, Opeoluwa Shodupe, a guidance and counselling officer, said that sexual desires and compatibility were driving forces that would lure older women to younger men.
She said that women with strong sexual appetites preferred younger men because they had the stamina to satisfy their sexual desires.
"Every woman wants a man that is good in bed and they will do everything to have and keep such men.

"Why will a woman marry a man who is older and weak to satisfy her sexually, when a woman can go for a younger man whom she can pamper and he, in return, will meet her desires?''
She added that younger men preferred to stick to older women who had enough resources to splash on them.
"In Nigerian parlance, cash-loaded women who are ready to spend their monies on young men are called `Sugar Mummies'.

"Such relationships are a give-and take-relationship with the women ready to spend lavishly on the men. The men while reciprocating will use their energies to satisfy such women sexually," she said.
READ ALSO: "They call us 'Sugar Mummies' because we are older than our husbands." – Abuja Women Protest
A banker, Onome Agbawe, said that with the life expectancy of women higher than those of men by some years, it was important for women to marry younger men that would possibly outlive them.
"Most women live way longer than their husbands and for me I will not want to live too long after my man is dead.

"So, it is ideal to marry someone you are older than by some years so that, all things being equal, and at old age, you will died between very short period after each other, if possible together, " she said.
Other respondents are of the opinion that a woman marrying a man younger than her was an idea driven my modernity and not accepted to the African tradition.
Ibe Chukwudi said that a man marrying an older woman was a taboo since it was assumed that older women would use younger men for rejuvenation.
He said that women aged faster than men and would not mind marrying a younger man just for the benefit of sustaining their lives.
"There is no benefit that a younger man derives from marrying an older woman but the reverse is the case and this is a ritual and an abominable act. In perception, there is no difference between `blood money' and the marriage of an older woman to a younger man," he said.
Bunmi Adetoro, a model, said that it was disrespectful for a woman to marry somebody younger than her.
She said that dating a younger man would only last for a while since the man would be expecting too much respect from the woman.
"Can you imagine me getting married to someone I am older than by between two years and three years?

"In my candid opinion, the marriage between a younger man and an older woman can only be likened to that of lust and not one based on genuine love, "she said.