Serena Williams Speaks On Motherhood & it's Many Complications She's Been Served With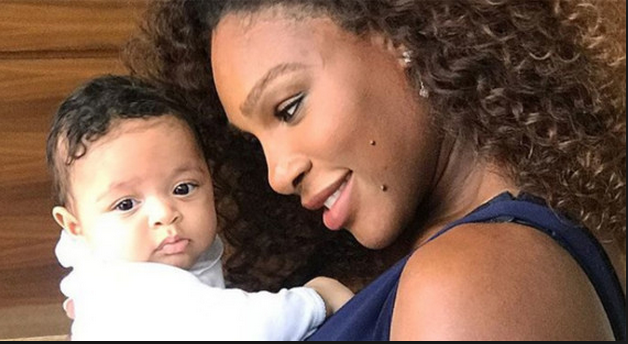 Tennis star Serena Williams, in her cover feature for Harper's Bazaar UK's July issue is talking about her pregnancy, having more kids, and suffering from postpartum depression.
Williams has powered through her first grand slam appearance since motherhood, but the mother of one has revealed details of the challenges she faced immediately after giving birth.
36-year-old Williams, who is married to the Reddit co-founder Alexis Ohanian, had an emergency caesarean section and experienced life-threatening complications after childbirth, which resulted in surgery to prevent blood clots travelling to her lungs.
Williams told Harper's Bazaar UK about struggling after her daughter, Alexis Olympia, was born in September, revealing she once cried because she could not find her baby's bottle.
READ ALSO: 8 Things No One Told You About Motherhood
Read excerpts below:
On being pregnant:
If I wasn't playing tennis, I'd be pregnant right now – sorry, I'm one of those women. I've been injured so many times, and played on it, my body is used to adjusting.
On if she wants more kids:
I told Alexis I hope it's another girl. Olympia needs a little sister, and then we can have a boy. I've only been around girls my whole life.
On suffering from postpartum depression following the birth of her daughter: 
Honestly, sometimes I think I still have to deal with it. I think people have to talk about it more because it's almost like the fourth trimester, it's part of the pregnancy.

I remember one day, I couldn't find Olympia's bottle and I got so upset I started crying…because I wanted to be perfect for her.
Williams had previously revealed she had to spend the first six weeks of motherhood in bed, and the medical ordeal combined with the challenges of parenting temporarily overwhelmed her.
READ ALSO: Serena Williams Details Near-death Experience After Birthing Her Daughter, Olympia
Williams told Vogue magazine in January:
"Sometimes I get really down and feel like, man, I can't do this. No one talks about the low moments – the pressure you feel, the incredible letdown every time you hear the baby cry.

I've broken down I don't know how many times. Or I'll get angry about the crying, then sad about being angry, and then guilty, like, 'why do I feel so sad when I have a beautiful baby?' The emotions are insane."
"I was happy to change diapers", but he said the hardest part was "not being able to help", her husband told the magazine.
While filming Wednesday's final episode of HBO's "Being Serena", the tennis champ broke down as breastfeeding her eight months daughter was taking a toll on her.
Serena Williams struggled physically after returning to full-time tennis training.
Despite exercising before her return, Williams weighed 205 pounds. Her body was storing fat to produce milk for her baby.
Discussing getting into shape, Williams's coach, Patrick Mouratoglou, told her,
"There is no miracle. You stop breastfeeding, you do the right thing every day." "Breastfeeding is an incredibly personal thing," said Williams, an advocate for breastfeeding.

"The connection that it gives me to Olympia — it's been one of the most magical things I've ever experienced."
READ ALSO: "Motherhood my Most Challenging Role Yet" – Uche Jombo Gives Shout Out to all Working Mothers
While Williams loves the bond breastfeeding allowed her to share with Olympia, she said she also missed certain things:
"The truth is I miss my body, being able to do other kinds of amazing things. I miss playing tennis. Mostly, I miss winning."
Williams wants her daughter to know her as a great champion, not just as a mother. She said,
"Winning's always been the way I define myself, and I want it to stay that way. Long enough for you to be able to watch me, cheer me on, and be proud of me."
Williams is not the first celebrity to admit struggling emotionally after giving birth.
Actress, Gwyneth Paltrow, whose son, Moses, was born in 2006, told Vogue UK in 2010:
"At my lowest, I was a robot, I didn't feel anything … I had no maternal feelings for him – it was awful."
The singer Alanis Morissette, who gave birth to her son, Ever, in 2010, told You Magazine in 2012:
"The degree and intensity of my postnatal depression shocked me."
The Loose Women presenter, Andrea McClean wrote in the Mirror:
"Sometimes it would happen without warning. I'd pop to the loo in the middle of a meeting and suddenly find myself overwhelmed with sadness, tears pouring down my face and my hand stifling the sobs."
Photo credit: Richard Phibbs/Harper's Bazaar/ Instagram