Defying All Odds to Become a Mom: Woman Living with Sickle Cell Tells Powerful Story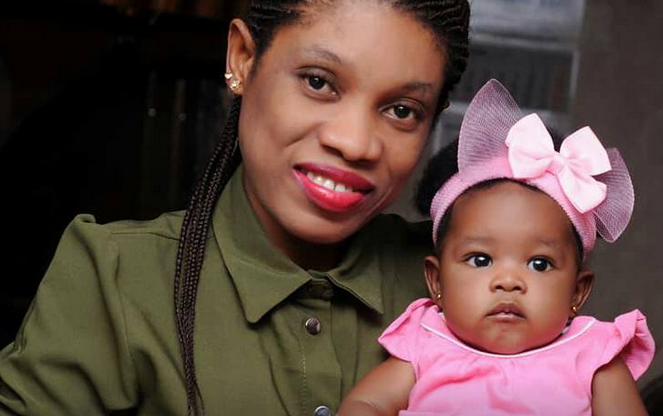 Sickle cell disease is a life-long illness. The severity of the disease varies widely from person to person.
In high-income countries like the United States, the life expectancy of a person with SCD is now about 40–60 years. In 1973, the average lifespan of a person with SCD in the United States was only 14 years. Advances in the diagnosis and care of SCD have made this improvement possible.
According to the World Health Organisation (WHO), Nigeria accounts for about 75 per cent of infant sickle cell cases in the continent with over 100,000 children dying from the scourge every year in the country, while 40 million Nigerians are carriers and an estimated one million persons living with sickle cell disorder, making it a prevalence rate that has resulted in Nigeria commonly referred to as the country with the highest level of sickle cell disorder in the world.
A Nigerian woman who is suffering from the disease has shared her powerful testimony of how she defied all odds to become a mother.
Enwerem Uju said getting pregnant was a miracle because according to doctors' reports, her routine drugs causes infertility.
She said everyone was scared for her but GRACE showed up for her as she had the most stress free pregnancy till she gave birth to her adorable daughter.
READ ALSO: True Life Story: Sickle Cell Mum, Anne Welsh Shares Personal Story to Encourage Pregnant Women Suffering from the Disorder
Celebrating her daughter who just turned 4 months, Uju wrote;
"My drive in raising awareness for sickle cell disorder is borne out of personal experience. It's been a very hard battle for me from having people not believing I can get this far to not having people understand the pain I endure being that the condition comes with a lot of physical, emotional, psychological pains.

As much as its difficult living with sickle cell disorder, I try not let it define me or get in the way of my life. I try my best to enjoy my life and appreciate the love I get from my parents, siblings, uncles/aunties, cousins, family friends and few friends.

Despite all the pains, traumas, hospital admissions, complications, surgeries and even insults from some???? I'm still here living my life.
At some point everything seemed so impossible. I lost some good opportunities, job opportunities, lost some good relationship with some good men too, received very annoying insults like "this one's parents are wasting their money", "this one can never bear a child, where the strength and blood wey she wan use kwanu"???? all because of SCD.

Then came the complications and series of surgeries in India, loss of my job with the bank I was working with after I came home, I still braced up, dusted them all, and had a deep thought plus medical advise and I decided that I want a child.
READ ALSO: A Spotlight on How Ignorance Runs Deep in Africa as Children Living With Sickle Cell Disease Are Killed By their Parents
It was a miracle when I got pregnant because my doctors were of the opinion that I can't, considering that my routine drugs causes infertility, everyone was a bit scared for me but GRACE showed up for me, I had the most stress FREE pregnancy till I gave birth to my daughter.
I gave her the names Chisimdiri Joanna (God kept keep alive, God's mercy). Ladies and gentlemen meet baby Simdi Joanna James-Enwerem, she's just 4 months old, she means everything to me, looking at her and knowing she's mine is just everything, lights up my heart and brings me soon much happiness and smiles. I call her mummy's friend #enyinneya.

Being a sickle cell warrior neva stopped me from chasing my dreams as I'm a lawyer today and by d grace of God dis awareness campaign for SCD is aimed at birthing a sickle cell foundation someday. I shared dis story to inspire and encourage other SCD warriors and their parents not to give up, they can still achieve whatever it is they dream of.
READ ALSO: A Sickle Cell Survivor at Age 90! Asiata Adupe's Story is Truly Inspirational
I'm living my life for God now, will also be turning 37 this November and the good news is – I'm still here.. It has always been God's grace and mercy and I owe my life to him. Oya say hello to the newest mummy in town."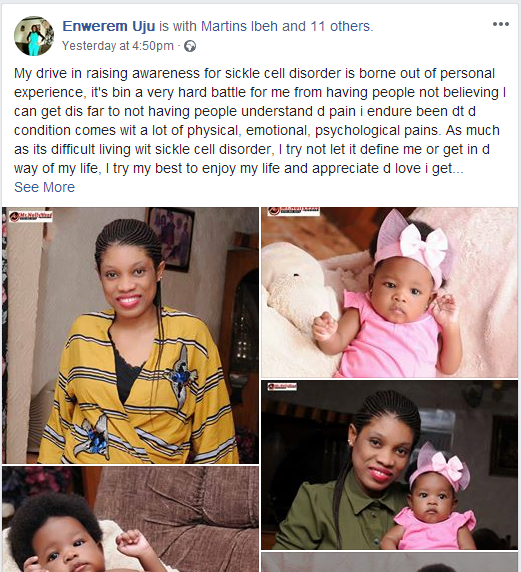 She is a warrior!
Picture credit: Mr. Nollywood