Between Toyin Lawani and a Follower: This Will Teach Parents to Remove the Log From Their Eyes Before Criticizing Another Parent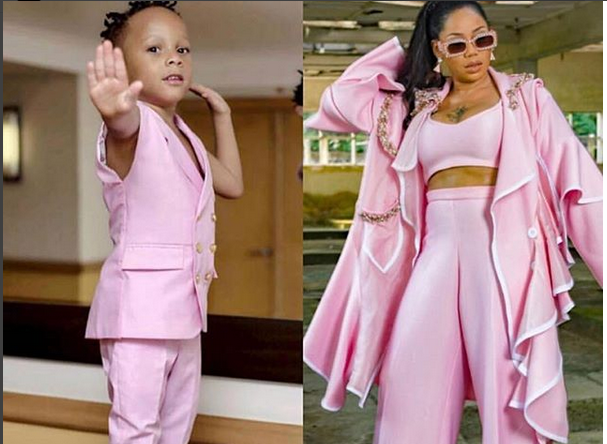 Yesterday, fashion entrepreneur and CEO of The Tiannah's Place Empire, Toyin Lawani took to her page to share a cute photo of her 4-year-old son, Lord Maine.
A social media user took to the celebrity stylist's comment section to criticize her mothering skills for piercing her son's earlobes.
So, Toyin, a single mom who had two of her children, Tiannah and child star Lord Maine for different fathers, went digging around the woman's page for any photo with which to hit back at her and she found an inappropriate photo of the woman's son.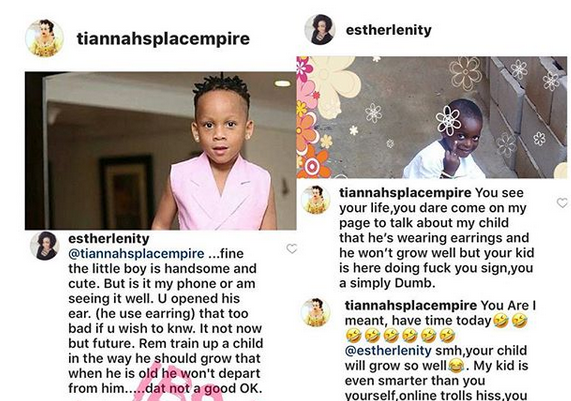 READ ALSO: "Married Women in This Part of the World Sacrifice the Most"- Toyin Lawani
Toyin shared the photo on her Instagram page and wrote: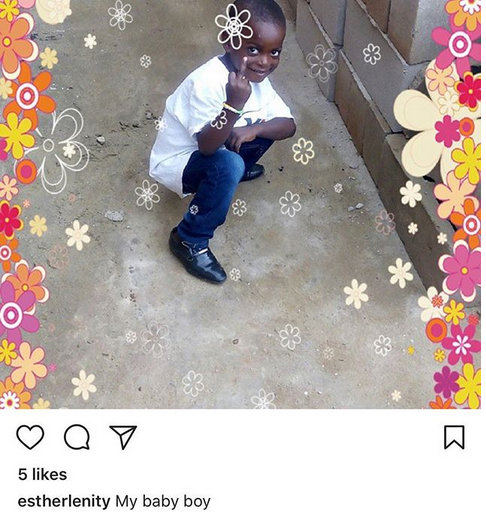 READ ALSO: Toyin Lawani Shares Her Story About Being Pregnant For A Younger Man
"You see your life, you dare come on my page to talk about my child that he's wearing earrings and he won't grow well but your kid is here doing fuck you sign, you simply Dumb.

You Are I meant, I have time today????????????????????????????????@estherlenity smh, your child will grow so well. My kid is even smarter than you yourself. Online trolls hiss, you will never try this nonsense with me again. Never come after my kid, if you don't want me to go after yours.

Celebrities are humans too, stop that shit????‍♀️I rebuke you in Jesus name, Evil worker, never speak negativism into my kids lives again."
Toyin Lawani is a fashion designer and a business woman. She started her career at a very young age. When she was only sixteen years old, she launched her first boutique.
However, despite a thriving career, not much is known about her private life! There is not much information about Toyin Lawani's ex-husband.
She has never talked much about this first love of hers. The only thing we know is that it was during this marriage that she had her first child, Tiannah. Now you can guess why her empire is called "The Tiannah's Place Empire."
READ ALSO: Business Mogul Toyin Lawani Trolled for Having 2 Kids with Different Fathers | Read her Epic Response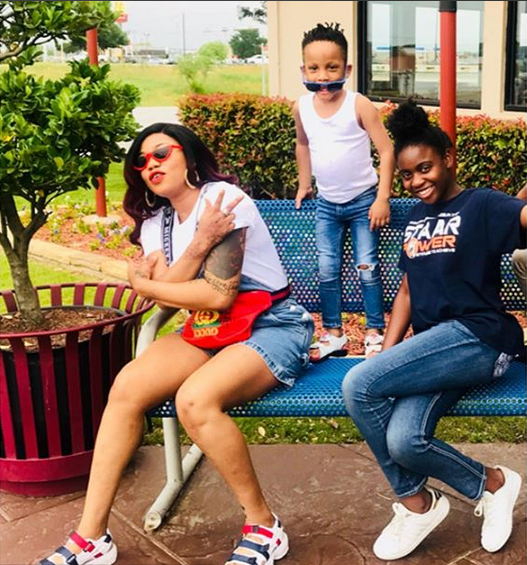 When speaking to the public, Toyin Lawani is very private about her first husband. She has already moved on to other relationships.
Toyin Lawani later dated a young guy, Lord Trigg, but the pair split up at the beginning of 2016. There were rumors that Toyin Lawani dated (or even married) Lord Trigg, but things ended because he was only interested in her money.
Lord Trigg denied the claim that he only wanted her for her money and even attacked his ex-fiancée on the matter.
READ ALSO: Toyin Lawani Pens Inspirational Note to Single Mums as She Celebrates Accolades for her Work
Toyin Lawani and Lord Trigg started dating in 2014. She was even pregnant with his child. However, they were not together for too long and their breakup was rife with scandal and arguments.
https://www.instagram.com/p/Bjm46WrHau9/?hl=en&taken-by=tiannahsplacempire
Photo credit: Instagram